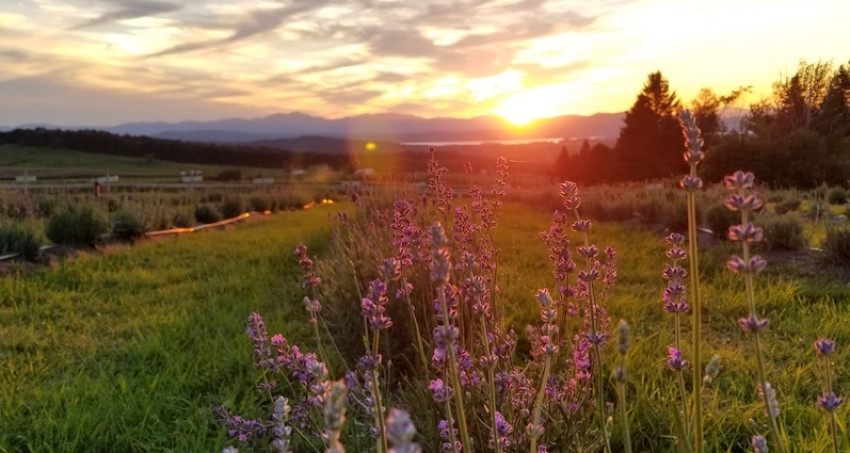 Wed, Aug. 9, 2023 6:00 PM – 8:00 PM
Come join us and create Crescent Moons together! We will be using dried redwood for the base of the moon. Crystals, bells, dream catching webs, dried flowers, herbs, and pendants give your creation intention and strength while letting your sparkling personality shine through. Have a favorite pendant or crystal? Bring it with you!! When you leave class you will have a completed decorative Crescent Moon of your own design. We will be using hot glue guns and pliers, so please be advised, this is not a class for small children. Bring your own libations! Class is $40 per person.
Note: Exit 29 is the last exit before Canada, so make sure you don't miss it!
Pierre and Michele Capron and started the lavender farm in the spring of 2017. Both Michele and Pierre grew up on dairy farms in the Northeast Kingdom of Vermont, and are proud to be the next generation of farmers, working the same land as Michele's grandparents once did. We are a multi-generational farm family, hoping to develop a successful business that can one day be passed onto our children. We have English lavenders, Munstead and English. We also have Chamomile, Mints, Sunflowers, Veggies, Herbs and more, available for you-pick. We proudly rely on a 140ft Bergey wind turbine to generate electricity and reduce our carbon foot print. A natural spring-fed pond sits next to the lavender field and aids in our crop irrigation. Our farm has amazing views for miles around of both the US as well as Canada. It is a beautiful and peaceful place to visit, helping to relax the souls and bring wellness of all who visit. We are excited to offer a new creative destination through eco-tourism as well as a line of aromatherapy products made from our home grown and produced essential oils. We have a beautiful farm, perfect for your Destination Wedding!
Related Places (1)