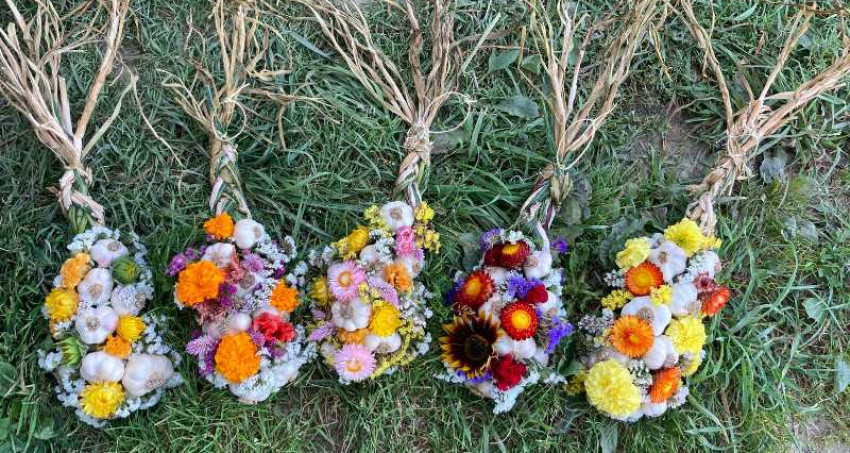 Sat, Aug. 12, 2023 2:00 PM – 5:00 PM
Join this Vermont Open Farm Week event, an art-filled celebration of summer traditions! Based at the Shelburne Farms Market Garden, local artists and makers will share the joy of seasonal plant harvest, creating, and making with you! Get ready to muddle mint and share a mocktail, take in a photography exhibit and youth-led original poetry, enjoy a reading of the Filipino children's book, When Lola Visits, and check out a plant cyanotype and botanical dye demo. Best for adults of all ages and families with kids ages 4+. This event is a collaboration between Shelburne Farms and Firefolk Arts, a woman-owned, inclusive art space, dedicated to curating culturally diverse art shows, pop-up markets, workshops & youth-led events, to uplift underrepresented artists, entrepreneurs & creators in rural communities.
Education stations will be set up throughout the Market Garden, with a variety of creative (and tasty!) demos. Tickets are timed to assist with parking, but you can visit the stations at your own pace.
$15 vehicle or family. The fee should not stop you from joining! Free tickets are available, too.
Artist/Maker Bios:
Tina Picz is a Filipina American multi-medium artist, food photographer, ice swimmer, mom, and founder / curator at Firefolk Arts in Waitsfield,VT, unceded Abenaki land. The nucleus of Tina's current work is to share her values of nurturance for earth's wild places and localized social justice, through the joy of connecting to land and others via the arts, community foraging, diversified culture-sharing, and practices which center wholeness and equity, while uplifting underrepresented artists.
Harmony Belle Devoe, age 14, is a multiracial poet, lover of words, the smell of old books, trail running, sushi, and baking with maple syrup. She's a member of the inaugural Vermont State Youth Council, and Cultivating Pathways to Sustainability, a youth volunteer program for community service. She has delivered her original poetry and speeches at the Vermont State House, the Longfellow House in Cambridge MA, and the Hildene Lincoln Family Home in VT. For inquiries: [email protected]
Allison Dellner is an herbalist, mother, reader, and lover of plants & wild places. She runs Wild Sings the Bird, a community supported apothecary. Allison is a doula with a passion for herbal care in reproductive health and hopes to encourage others to reclaim sovereignty over their health and connect people to the plants that will lead them to wellness.
Sara Riegler is an artist and plant lover dedicated to individual and collective healing, currently based in Abenaki homelands in northern Vermont. She explores textiles, botanical dyeing, illustration, printmaking and gardening as modes of creative expression in connection with place. She believes in the power of plants for providing healing connection with self, other, our ancestors, and the earth and is passionate about cultivating opportunities for this connection for all people.
Victoria Keen is a mother, healer, fabric alchemist, and avid gardener. She believes a natural dye practice can be a moving meditation, imparting awe and wonder into the everyday world that surrounds us. A third generation textile designer, she holds a BFA in Textiles from Parsons School of Design, and combines her meditation, herbal and healing work to create her unique plant and food dye practice.
Inviting curiosity and imagination by using food waste, a magical process is revealed. What was previously seen as ordinary refuse in the environment becomes a free and Earth friendly way to alchemize fabric.
About Firefolk Arts: Founded in May of 2023, Firefolk Arts is an AAPI woman-owned, inclusive art space and gallery for collaboration and exploration, through hands-on, experiential learning and skill-sharing, which connects people of all ages and backgrounds.
Dedicated to curating culturally diverse art shows, pop-up markets, workshops and youth-led events, they uplift underrepresented artists and entrepreneurs in rural communities. This initiative is rooted in values of reciprocity, racial and economic equity, and environmental nurturance. In addition, they offer studio rental space for projects, events, office hours, and art material storage, based in Waitsfield's old firehouse on unceded Abenaki homelands.
Related Places (1)