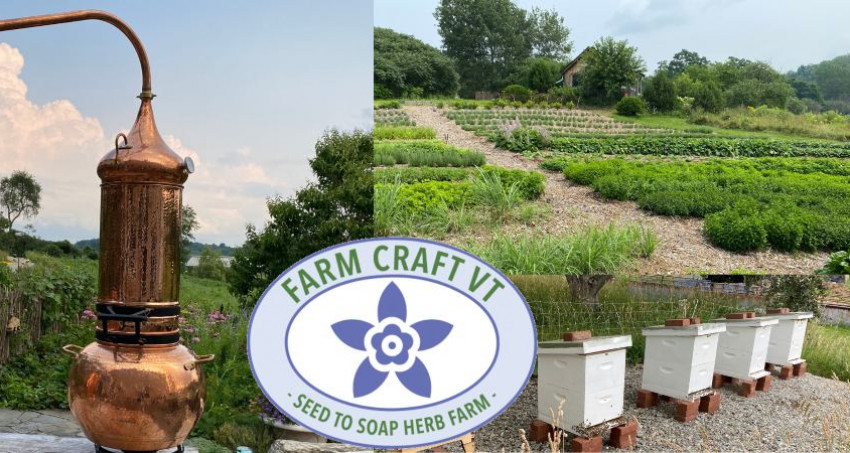 Wed, Aug. 11, 2021 4:00 PM
You're invited to take a tour of the Farm Craft VT herb garden and apiary, where the owner of Rebecca Lindenmeyr will describe each herb grown and its uses, and the process of harvesting, drying, and distilling herbs for their essential oils - and how they are incorporated into products. Guests will have the opportunity to smell each plant, watch the alembic still in action (weather permitting), and sample the products made with their herbs, honey, and essential oils. Rebecca will also open one of the hives and pass out samples of the fresh honey inside and discuss organic beekeeping and what it means to be a Bee Friendly Farm certified by the Pollinator Partnership. The tour will be both inside and outside - dress appropriately for the weather, it is a rain or shine event! This event is great for children. This event is not great for dogs, however, so please leave canine members of the family at home. All guests will receive a slice of soap and a coupon to use in the Farm Shop.
Tours will be offered on Wednesday, August 11th at 4:00pm and Sunday, August 15th at 2:00pm.
$15/person.
Click here to register via Eventbrite: Wednesday OR Sunday.
Farm Craft is a 'Seed to Soap' Herb farm and craft studio, with a mission to organically grow as many of the raw materials for their products as possible, including seed oils (sunflower and hemp), 50 varieties of herbs, flowers, honey and beeswax. Farm Craft VT is one of a handful of VT Farms certified as a Bee Friendly Farm by the Pollinator Partnership, and integrates native wildflower meadows into their 15 acres. Botanical body care products, teas, SuperFruit syrups and more are handmade on the premises in small batches. Guests can tour the herb garden and purchase products in the Farm Shop.