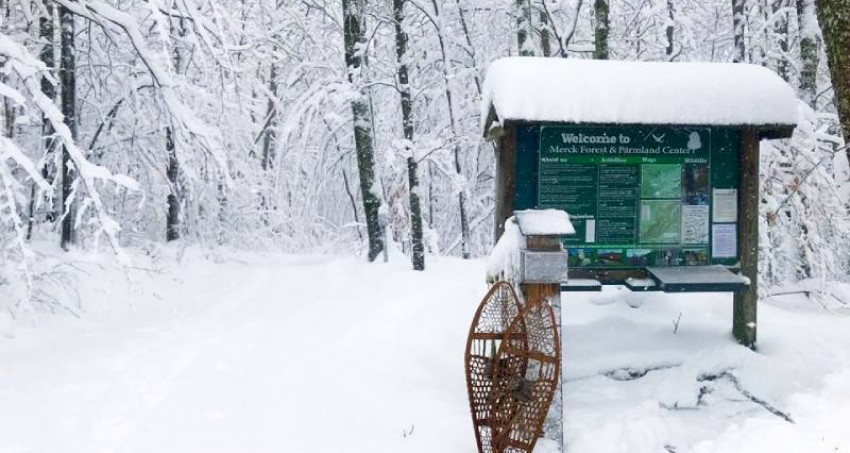 Merck Forest is an educational non-profit organization with a mission to inspire curiosity, love, and responsibility toward natural and working lands. From its founding 70 years ago, they have welcomed the public, allowing access on their land for recreational purposes at no cost. Learn more about Merck Forest and Farmland Center.
Our trails take visitors through our farmyard and deeper into our property. With over 30 miles of trails, there's something for everyone. Our trails go through woods and fields, over varying terrain. Trail lengths range from an easy 10 minute walk to our farm where you can visit Fern and Arch, our team of draft horses, as well as our flock of sheep, to a 5 mile round-trip hike to the top of Mount Antone to see sweeping views of the Adirondack Mountains to the northwest.
In late winter/early spring, visitors can see our maple sugar operation in action. We offer you-pick berries in season, and educational programming throughout the year.
Winter Activities
Cross-country skiing, snowshoeing, hiking, winter camping in their cabins, and back country tele skiing.
Trail Info
A trail map is located at the kiosk near the Visitor Center. In addition, maps can be obtained in the Visitor Center and online by going to their website (below).
Parking
Please park in the parking lot near the Visitor Center (VC). No vehicles are allowed beyond the gate at the VC.
Amenities & Other Info
The Visitor Center is currently open on weekends, 10:00am - 5:00pm.
Horses and dogs welcome. Dogs must be leashed around the Visitor Center and the farm area.
Winter trails are not groomed.
There is an outhouse at the Visitor Center and another at the farm for public use.
Other seasonal activities include hiking/walking, horseback riding, camping.
Fences are electric and pastures are off limits.
Cell phone service is spotty, depending on your carrier. Do not depend on cell phone coverage in case of an emergency.
Note that Merck Forest is located in a backcountry setting; if needed in an emergency it can take over an hour for EMTs to arrive at the Visitor Center. Hikers and skiers heading into the property beyond the farm area should be prepared with the 10 essentials and be knowledgable in first aid.
Food
Our own certified organic, bird-friendly maple syrup, as well as our farm-raised lamb and pork are available for sale in our Visitor Center and online. In addition, we also offer our syrup for sale through our website.
Recommended restaurants include The Barn in Pawlet, The Dorset Inn in Dorset, and Christo's for pizza in Manchester.