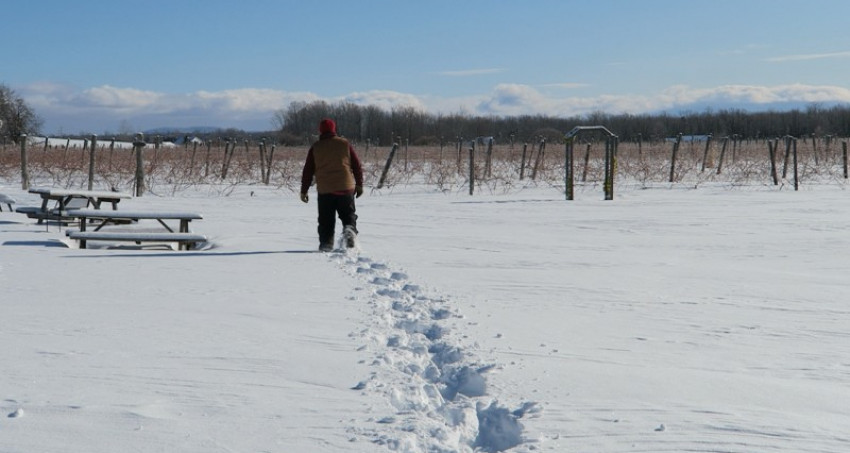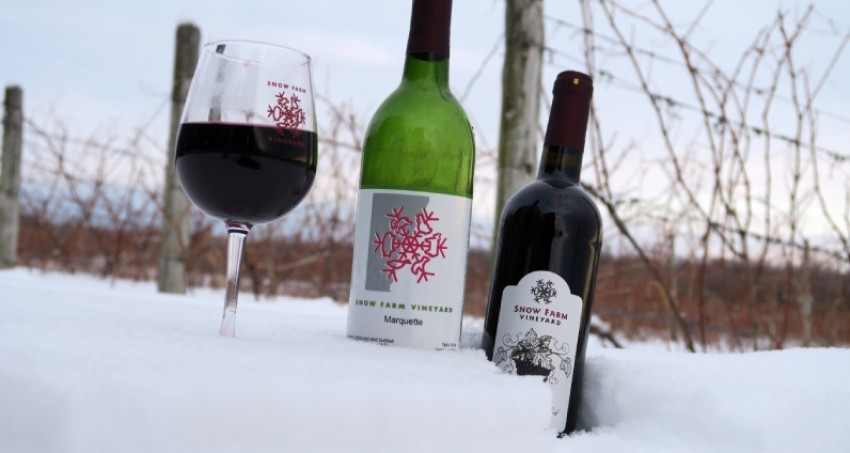 Snow Farm Vineyard was Vermont's first modern vineyard, started in 1997. The 120 acre property in the Champlain Islands is a protected land trust and retired dairy farm. Visit for a unique experience on an island in the middle of Lake Champlain. Learn more about Snow Farm Vineyard.
The most exciting thing to see on your way is the variety of grapevines along the trail. As a regular hiker on Fox Hill, you see the seasonal changes in the grapevines from dormant, to bud break, flowerets, on to summer vines and full bursting to be harvested, fall grapes. At the top of the hill there may be some benches available. It is the most beautiful vista with Mt. Mansfield and Camels Hump to your left (east), looking south you see Crescent Bay and where the sky meets the water (a rare vista in Vermont), on your right are the Adirondacks and you can see the rocks of Whiteface!
Winter Activities
This trail is a 4-season hiking trail. Folks are invited to the vineyard year-round.
Trail Info
Facing the Tasting Room entrance, go right around the building and head toward the grapevines. Walk east on the trail with the cedar trees on your left and grapevines on your right. After approximately 10 minutes you will see the trail marker for Fox Hill Trail. Turn left and go up the gentle hill approximately 10 minutes. Enjoy the vista and a variety of views facing south all along the top! It's an out and back trail. To return, follow your footsteps back to the Tasting Room for a wine tasting experience.
Parking
Please park in the North Parking Lot during open tasting room hours.
Amenities & Other Info
Winter trails are not regularly groomed.
The trail may be muddy in the spring. Good shoes are recommended.
"If you choose to hike in the vineyard we ask that you stay on the grassy trails and do not cross the trellis with the wires. The vines are sensitive."
Sorry, no public restrooms at this time.
There is good cell service.
Wheelchair accessible in the tasting room and the immediate front of the building. The path is uneven through the vines.
Be aware of hunting season if hiking in the fall. Enjoy the fall colors during business hours and check-in with tasting room staff before you head out.
Food
When our tasting room is open you are welcome to stop in and purchase our locally grown and produced wine and there are choices of Vermont cheeses and meats and crackers that you can bring with you to have a family picnic and enjoy outside anywhere on Snow Farm Vineyard and at the top of Fox Hill!
Snow Farm Vineyard is in partnership with Crescent Bay Farm B&B, located next door. It is an old fashioned B&B style, in a 200 year old farmhouse, located with beach access. Hiking and biking in the Champlain Islands is very popular!