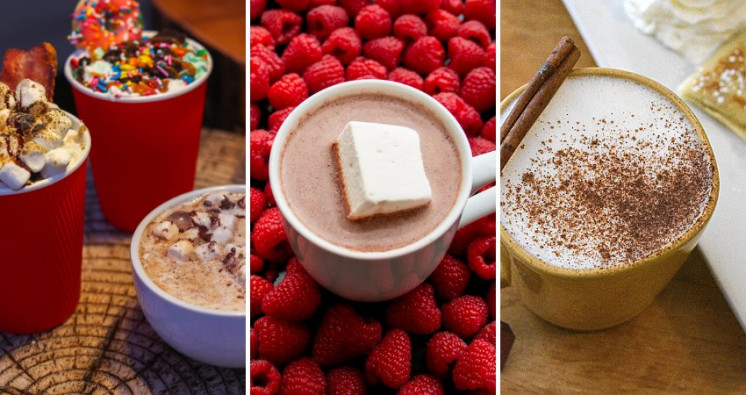 Do you have a favorite way to sip and savor hot chocolate? Extra whipped cream? Marshmallows? Super-chocolatey? With a little nip? Our local chefs have taken on the challenge to come up with unique and tasty offerings all week long to celebrate Vermont Hot Chocolate Week.
However you like it, from classic to spiced to boozy to bombs to special toppings and beyond, spend February 1st - 7th traveling around the state tasting our favorite winter beverage and celebrating Vermont dairy.

Menu specials
Did you know that Ben & Jerry's steams a little bit of ice cream into each hot chocolate order? Your hot chocolate can be flavored with your favorite Ben & Jerry's ice cream! Hot chocolate is served at both their Burlington and Waterbury locations. Or, purchase your favorite ice cream flavor and make it at home! See this blog post for ideas.
Menu specials and winter hiking
Try their featured dessert: Hot Chocolate Milk Cake with Marshmallow Ganache featuring Vermont dairy, available in their farmstand and at the farmers markets during the week.
Pick up their Hot Chocolate Bar in a Box: featuring in-house marshmallows, vanilla, maple, and a mini marshmallow mix of vanilla, chocolate, and peppermint. Plus, Fat Toad Farm Caramel, Laughing Moon Chocolates, and MOCO Hot Chocolate Mix. This box is available online, in their farmstand, and at the farmers markets.
Visit the farm and take a winter hike or snowshoe! The trail throughout their farm will be open Monday - Saturday, 1:00pm - 4:00pm. Hot chocolate and their mini marshmallows will be served in their farmstand. Saturday, the 6th, there will be a special bonfire (weather dependent) to warm up before or after trail use; hot chocolate and mini marshmallows will be served. Masks and social distancing are required; reservations preferred.
Menu specials
University Medical Center staff can stop by the Garden Atrium cafe for various flavors of hot chocolate to celebrate Hot Chocolate Week. Choose between "kit kat" hot chocolate, peanut butter hot chocolate, or peppermint hot chocolate, each paired with a pastry, caramel hot chocolate paired with Red Kite caramel candy, or a hot chocolate float. *This is only for folks in the University Medical Center building.
Menu specials
Kestrel Coffee Roasters sources and roasts specialty coffees from all over the world, focusing on single origin coffees and bringing a high quality coffee experience to Burlington, VT and beyond. From your first visit (or sip!), you'll understand their enthusiasm, care, and attention to detail. Kestrel's cafes not only feature great coffee, but all sorts of delicious homemade sweets and treats. Their drink syrups, like caramel and vanilla, are all made in house, with seasonal syrups coming and going throughout the year.
Their hot cocoa is made with their homemade chocolate syrup and steamed milk from Monument Farms. Be sure to stop in during Hot Chocolate Week where any hot cocoa purchase will give you a voucher for one free drink (up to $5 value) on a future visit.
Menu specials
Stop by the cafe in Norwich and warm up! Enjoy their special hot chocolate made with rich chocolate sauce from the bakery, McNamara milk and whipped cream, and topped off with a homemade marshmallow. Receive a free chocolate cookie with each hot chocolate at the cafe.
Menu specials
Peruse the cafe menu and stop in for a gourmet hot chocolate at one of their 3 locations: Pine St and Church St in Burlington, or Route 100 in Waterbury. Three new menu items are available during Hot Chocolate Week! Pick up hot chocolate bombs to use at home and try the limited-edition Raspberry Hot Chocolate or Dark Hot Chocolate in the cafes.
Lake Champlain Chocolates is also collaborating with the following:
Cabot Creamery Cooperative: purchase a tin of Lake Champlain Chocolates hot chocolate in one of their three stores, and receive a coupon for a free canister of Cabot Whipped Cream to complete your hot chocolate creation.
Mad River Distillers: pick up a boozy hot chocolate kit, complete with Lake Champlain Chocolates' marshmallows and hot chocolate mix.
Shelburne Orchards: pick up a Dead Bird Brandy and make their recipe at home with Lake Champlain Chocolates' hot cocoa.
Check out their tips for making the best hot chocolate and hot chocolate bar ideas & toppings.

Menu specials
Visit Spruce Peak in Stowe for winter beauty and adventure. Reserve a Mansfield Terrace Après Igloo and enjoy the gourmet hot cocoa options:
"S'mores" - A twist on the classic, this hot cocoa combines swirls of chocolate, marshmallow, and graham cracker crumble. It is garnished with a chocolate chip cookie dipped in ganache with graham sprinkle, and torched marshmallow.
"Peppermint Delight" - Hot cocoa is enhanced with vanilla and chocolate Sauce, swirled crushed peppermint patties, garnished with chocolate dipped pretzel rod and crushed candy cane bits, chocolate shavings, and mini marshmallows.
"Donut Let me Go" - Hot chocolate combined with salted Caramel, towers of vanilla bean whipped cream, sprinkles, Oreo crumbles, mini M&Ms, and of course, a sweet mini donut to top it all off!
Menu specials
Warm up this winter with a Boozy Hot Chocolate Kit from Mad River Distillers! Enjoy their spirits paired with Lake Champlain Chocolates Hot Chocolate in a warm cocktail, or try out their Toast of Manhattan cocktail recipe in a sundae! Available with their Vanilla Rum made with Fair Trade cane sugar and Tahitian vanilla beans, or their Revolution Rye Whiskey made from local grains from the Northeast. It's available at their Burlington Tasting Room Wednesday - Sunday; 12:00pm - 6:00pm.
"Hot Chocolate Bundle"
Mad River Taste Place in Waitsfield has put together a "hot chocolate bundle." Pick and choose your items from this list: Silly Cow Farms Hot Cocoa Mix - assorted flavors, Mad River Distillers Vanilla Rum, Apotheker's Vanilla or Chocolate Topped Vanilla Marshmallows, ceramic mug by Luke Iannuzzi Pottery.
"Serious Hot Chocolate Kit"
Michael's on the Hill is offering a takeout "Serious Hot Chocolate Kit" that includes dark chocolate ganache for hot chocolate, double chocolate cookie dough for baking, a fantastic hot chocolate spice blend, vanilla cream, chocolate shavings, instructions, and some nice add-on boozy options. It's $42 for the to-go kit (for 8 people), and add Bailey's, Godiva, or Kahlua for $6/nip. Please plan ahead and give 48 hours notice for your order.
Menu special
Their Hot Chocolate Kits come with their super-rich mix, a housemade maple marshmallow, and instructions to create a most decadent cup of hot cocoa. "We recommend Rogers Farmstead cream-top whole milk to make this recipe!"
Visit for hot cocoa
Friday at Dan & Whit's:

To celebrate Hot Chocolate Week, Norwich Farm Foundation and Norwich Farm Creamery will be hosting a Hot Chocolate station at

Dan and Whit's

in Norwich, Friday Feb 5th from 12:00pm - 5:00pm. All proceeds benefit Norwich Farm Foundation in their efforts to save Norwich Farm.
Saturday & Sunday at the farm: The self-serve hot cocoa station is open weekends from 9:00am - 5:00pm at the Norwich farm store. Made from local milk from the Jerseys at Billings Farm, the hot chocolate is $3 a cup and $2 per refill, including marshmallows. The recipe includes non-GMO cocoa, organic sugar, and a little sea salt.
Free cocoa with any purchase & special offer
At their Montpelier store, Rabble-Rouser Chocolate & Craft Co is offering free hot cocoa in any size with any purchase during Hot Chocolate Week. Plus, take advantage of their 20% off sale on 1-lb pouches of bulk chocolate.
They say, "We recommend making hot chocolate with pure chocolate, (rather than cocoa powder,) for a creamier, more full-bodied cup. So we're putting this special on pouches of cocoa in encouragement that folks will mix these chocolate dollops straight in with milk and create a new, European-style hot cocoa tradition for themselves at home!"
Menu special
Red Hen is featuring a hot chocolate special: peppermint mocha or peppermint hot cocoa with or without whipped cream and sprinkles of peppermint candy.
Menu specials
Three Skinny Pancake locations are participating in Hot Chocolate Week with delicious specials!
The Quechee restaurant is featuring cinnamon hot chocolate with whipped cream.
Stop in downtown Stowe for peppermint hot cocoa with whipped cream.
Visit the Burlington location for a selection of boozy hot chocolates, including a spicy one with jalapeno tequila, mole bitters, and their hot cocoa.
Menu specials
Sweetwaters American Bistro in Burlington has a Hot Chocolate Bar! Guests are given a choice of the following two options.
Choose the 6-hour Crock Pot Hot Chocolate or Mayan Cinnamon Cayenne Hot Chocolate.
Pick your add-ons: whipped cream, house-made marshmallows, oreo cookie crumbles, crushed peppermint candy, salted caramel sauce, shaved dark chocolate, and/or toasted coconut.
Boozy add-ons are $5 each: Baileys Irish Cream, Peppermint Schnapps, Frangelico Hazelnut Liqueur, Tequila, Raspberry Liqueur, Vanilla Vodka, or Malibu Coconut Rum. Drinks can be enjoyed on the premises or to-go.
Menu specials
The Essex Resort & Spa in Essex is featuring a housemade spiced dark hot chocolate in their Lobby Café. Choice of toppings include: whipped cream, crushed peppermints, shaved dark chocolate, mini marshmallows, and/or mini fudge cubes.
Also check The Tavern and Junction restaurants for daily specials!
Menu specials
At The Scoop in Shelburne, order a hot chocolate float or milkshake. The flavors include the following for $6 each.
Hot Chocolate Float: rich dark fudge sauce with Monument Farms Chocolate Milk finished with a scoop of their homemade vanilla ice cream and soft homemade marshmallows.
Hot White Chocolate Float: creamy white chocolate fudge sauce, milk and finished with a scoop of chocolate ice cream and soft homemade marshmallows.
Hot Chocolate Milkshake: made with their seasonal hot chocolate ice cream, decadent fudge swirl, homemade marshmallows and all made with Monument Farms milk.
Menu specials
Students and staff on the UVM Burlington campus can find a yummy hot chocolate special for the week at the Campus Perk: Salted Caramel Hot Chocolate, featuring house made caramel sauce and marshmallows! *Students and staff only.
Vermont Hot Chocolate Week is funded through a 2020 Vermont Breakfast on the Farm grant awarded to Vermont Fresh Network to promote Vermont dairy and engage local businesses and the public.