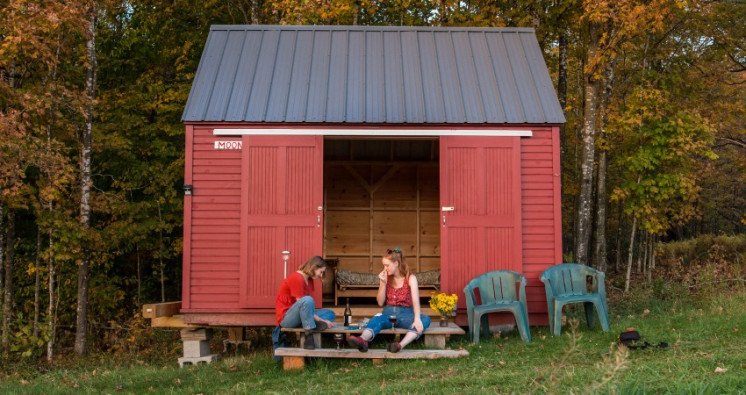 Farm stay experiences offer Vermonters and visitors alike an opportunity to discover life on the farm! From maple syrup and dairy to organic vegetables and pasture-raised meats, each farm that welcomes visitors hosts their own unique, educational, relaxing, and fun activities. Guests can pet a farm animal, harvest their own food, learn about the farmers and hear their stories, take in the beautiful landscape, and enjoy nearby attractions including local food and drink, outdoor recreation, farmers markets, and so much more.
And our Vermont farm stay hosts are the ones that make it all happen! Click the links below to learn a little bit more about why these farmers welcome guests to the farm and what awaits visitors during their stays, straight from the source.
A working farm open to the public for picnicking and exploration, events, and cabin and tent camping, Four Springs Farm, Campground & Learning Center is "nature's playground at her best." Farm activities include fruit and vegetable production, poultry raising, and greenhouse activity in spring.
Guests have the passive educational experience of wandering the farm and seeing the plants and animals, picking wild berries, and interacting with the friendly farm cat. They are welcome to "tag-along-on-chores" in the morning with one of the farmers. The sunset from this west facing hillside provides a daily light show for visitors. Millions of stars are visible without any outdoor farm lights.
Sandiwood Farm offers high quality, low impact organic produce, CSA shares, hemp and CBD products, maple syrup, and a beautiful venue for one-of-a-kind events and farm stay experiences.
It's wonderful to connect with our guests, and have children harvest vegetables, collect eggs, and see sap come from the trees for the first time! We love to develop lasting relationships [with our guests] and create memorable visits. It's an honor to share and enjoy our slice of earth with others.
Home to Vermont's first flock of Gotland sheep, Vermont Grand View Farm aims to help folks connect with the state's rich agricultural life. Learn about maple sugaring, shepherding, fiber arts, and sustainable farming when you visit, and stay in their 19th century farmhouse suite.
There is nothing more rewarding than that "aha" moment when a guest helps put tomato plants in the ground, reveals a pea from within its pod, takes in the smell of manure as they help clean the barn, takes a sip of sap right from the maple tree, rests atop a mountain of hay bales they have just helped stack, holds a newborn lamb, embraces a newly shorn fleece, or meets the sheep for the first time in their hand-knit sweaters. It's an honor and blessing to be able to pass Vermont's agricultural traditions on to others.
Funding for the article was made possible by the U.S. Department of Agriculture's (USDA) Agricultural Marketing Service through grant
AM190100XXXXG100 . Its contents are solely the responsibility of the authors and do not necessarily represent the official views of the USDA.