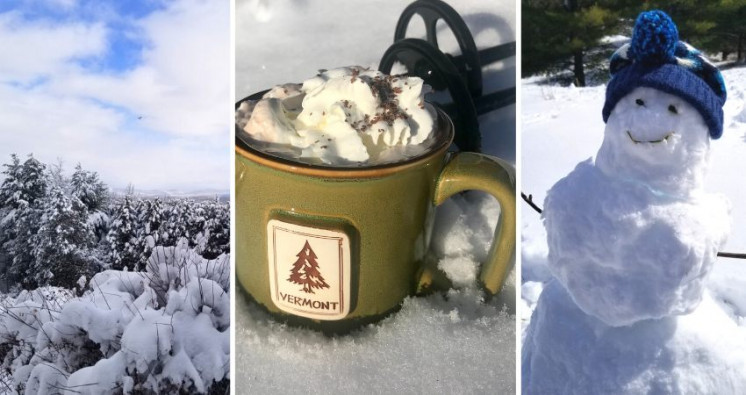 One of the best times to enjoy hot chocolate - for both kids and adults - is after playing outside in the snow! During Vermont Hot Chocolate Week, February 1st - 7th, go on any number of outdoor adventures and then cozy up with a rich mug (or thermos) of hot chocolate. Visit a snowy park, farm, mountain, hill, and more for skiing, sledding, snowshoeing, skating, and hiking. Bring your favorite hot chocolate with you, make one at home (see recipe ideas here), or stop at a participating business after your outdoor fun!
Don't forget to snap a photo for the Vermont Hot Chocolate Week Photo Contest!
Before you go, check out this great graphic about safe winter outdoor recreation from the Department of Forests, Parks, and Recreation. Enjoy!
Vermont's state parks are a great place to visit in the winter! Vermont Parks Forever, the foundation for the state parks, is dedicated to protecting and enhancing Vermont's 55 state parks, and focuses on nature education, park accessibility, and environmental stewardship. So, grab your thermos and join us in enjoying hot chocolate in our state parks. Admission is free in the winter and there's lots of sledding, skiing, snowshoeing, and hiking to be had!
From the Vermont State Parks' website: "Contrary to what you might think, Vermont State Parks stay open for use all year long. Parks are great places to go for skiing, snowshoeing, ice skating, sledding, fat biking, snowmobiling and more." Please note, "There are no fees during the off-season, and staff, restrooms, and drinking water are also unavailable."
See their Winter Use Guidelines to make your trip more enjoyable.
They also have recommended parks for specific winter activities: cross country skiing, ice fishing, ice skating, sledding, snowmobiling, snowshoeing, and off-season camping.

Photos provided by Vermont Parks Forever: Mt. Philo State Park, Button Bay State Park, and Owl's Head Mountain (Groton State Forest, trail out of New Discovery State Park).
Each day this week staff in South Burlington will visit a different park and spend some time handing out steaming cups of hot chocolate as their way of saying thanks for being awesome.
"You make our community a better place!"
Look for the A-frame sign with the hot chocolate picture on these days: Monday at Wheeler Nature Park, Tuesday at Red Rocks Park, Wednesday at Farrell Park, Thursday at Overlook Park, Friday at Wheeler Nature Park. It's going to be a fantastic week to be outside!
Visit Spruce Peak in Stowe for winter beauty and adventure. Reserve a Mansfield Terrace Après Igloo and enjoy the gourmet hot cocoa options:
"S'mores" - A twist on the classic, this hot cocoa combines swirls of chocolate, marshmallow, and graham cracker crumble. It's garnished with a chocolate chip cookie dipped in ganache with graham cracker sprinkles and a torched marshmallow.
"Peppermint Delight" - This hot cocoa is enhanced with vanilla and chocolate sauce and swirled crushed peppermint patties, garnished with a chocolate dipped pretzel rod, crushed candy cane bits, chocolate shavings, and mini marshmallows.
"Donut Let me Go" - This hot chocolate is combined with salted caramel, towers of vanilla bean whipped cream, sprinkles, Oreo crumbles, mini M&Ms, and of course, a sweet mini donut to top it all off!

Sandiwood Farm will be open over the weekend, February 6th & 7th. Sip on some hot chocolate in their beautiful agritourism greenhouse!
"We will have samples of our maple syrup to further sweeten the cocoa, as well as our CBD products to add, too."
Visit their farm that weekend for a bonfire outside and trail use for skiing, snowshoeing, or fat biking around the farm and through their sugarbush. There will be a large hot thermos of cocoa at their old sugarhouse in the sugarbush, too - a nice treat for guests using the trails!
They have 80 acres and try to keep the trails tracked. No cost for cocoa and trail use. Reusable mugs are encouraged!

Visit the farm and take a winter hike or snowshoe! The trail throughout their farm will be open Monday - Saturday, 1:00pm - 4:00pm. Hot chocolate and their mini marshmallows will be served in their farmstand. Saturday, February 6th, there will be a special bonfire (weather dependent) to warm up before or after trail use; hot chocolate with mini marshmallows will be served. Masks and social distancing are required; reservations preferred.
Enjoy any of these cross country ski and snowshoe trails on Vermont farms - don't forget your thermos of hot chocolate! Pass through sugarbush, meet hardy farm animals, view outdoor artwork, pick up some cheese, and more. View details for each farm and trail.

Vermont Hot Chocolate Week is funded through a 2020 Vermont Breakfast on the Farm grant awarded to Vermont Fresh Network to promote Vermont dairy and engage local businesses and the public.