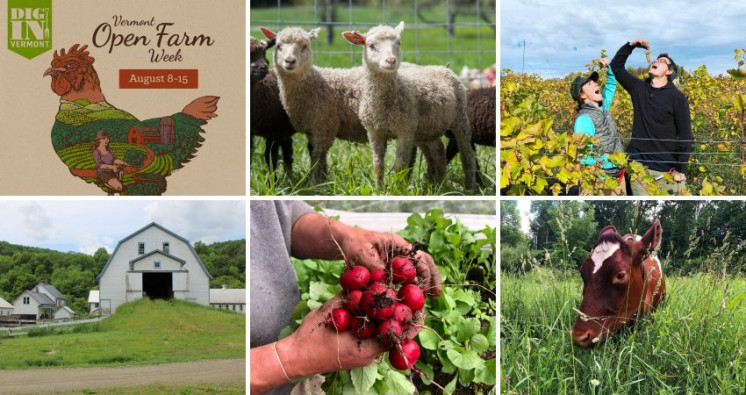 Celebrate and explore our local food and farms during Vermont Open Farm Week, coming up August 8th - 15th all across the state! Meet the farmers, plants, and animals that bring your favorite high quality Vermont products to your plate. There's no better way to get a behind-the-scenes look into the Green Mountain State's vibrant working agricultural landscape. And the best part is that every farm is unique and has something special to share.
Below are just some of the 90+ events that await you during this fun and delicious week - there's so much to discover! For a full list of Open Farm Week happenings, visit diginvt.com/vtopenfarm.
Be sure to visit the full event listings (linked below) for all the details, including registration & fees, if applicable (though many are free!).
Learn something new!
No matter which event(s) you attend during Vermont Open Farm Week, you're bound to learn something new. Following along on a farm tour or participating in a workshop presents special opportunities to hear directly from the farmers and makers themselves - the folks who grow the veggies, raise the livestock, make the maple syrup, and more. Find out what they have to share with you!
No-Till & Regenerative Agriculture Practices
Experience a small scale no-till production farm first hand. Breadseed Farm's market garden focuses on regenerative practices and soil health. They'll be giving farm tours, offering tastes of crops in the field, and demoing their favorite tool - the broadfork!
Visit Cedar Circle Farm & Education Center for a tour focused on their no-till fields! Tour guides will share about regenerative agriculture practices and the farm's transition to no-till. They will answer your questions about what the terms mean and how they look in practice. Enjoy!
Themed Tours
Join The Farm Between for a morning birding walk around the farm. The group will gather at the parking area and then explore the farm's trail system across 18 acres of fields, fruit trees, and berry plants with longtime birder John McKay.
Elmore Roots' farmers will take you on a free guided tour of their farm for Vermont Open Farm Week! You'll see many different and unusual kinds of berries and nuts that are grown on the hillside farm and answer any growing questions you may have.
Wild Edibles & Tree Walk | Smokey House Center, Danby | Thursday, August 12th, 5:30pm - 7:00pm
Join Bruce Ketcham and Scott Lehmer for a wild edible walk around the main campus and shaded hedgerow of Smokey House Center. Wild edible plants and beginner level plant identification will be discussed through basic botany, as well as how, where, and when to look for specific seasonal edible plants for culinary and medicinal uses.
Jam Out
Talk & Taste | Blake Hill Preserves, Windsor | Monday, August 9th - Friday, August 13th, 10:00am - 5:00pm
Blake Hill Preserves is known for fine preserve making incorporating locally grown and harvested produce. Stop by the shop to enjoy a special daily talk, tasting, and promo. Topics include botanical jams, spicy jams, shrubs, foraging, and more.
Land History & Food Sovereignty
Join Chief Don Stevens and the Healthy Roots Collaborative in the field at West Farm to explore the Abenaki Land Link Crops. Chief Stevens will talk about the food sovereignty work of the Nulhegan along with the historical significance of the three sisters crops and the story of Mother Corn. Attendants will also learn about seed saving and enjoy snacks from the farm. This event is a partnership of Abenaki Land Link, Northwest Healthy Roots Collaborative, and West Farm.
Demonstrations
Herding Demonstration | Morse Brook Farm, Putney | Sunday, August 8th
See the border collies of Morse Brook Farm move the sheep during Vermont Open Farm Week! Learn about the history of herding and how the dogs help their shepherds with daily tasks.
Small Tool Sharpening Demo | Smokey House Center, Danby | Wednesday, August 11th, 10:00am - 11:30am
Stanton Sears will demonstrate how to sharpen knives, chisels, and other hand tools during Open Farm Week, using a range of sharpening tools and processes. If you have a knife or chisel you would like to have sharpened, pack it carefully and bring it to Stan! Stanton Sears is a sculptor who prefers to work with sharp tools and enjoys teaching others how to keep their blades in good condition.
Meet the animals!
Many of the farms welcoming visitors during Vermont Open Farm Week have animals! These special creatures provide us with milk, eggs, cheese, meat, and company. Learn more and meet them at the events below!
Feeding Pigs | Von Trapp Farmstead, Waitsfield | Monday, August 9th, 12:00pm - 2:00pm
This is a great event for all ages! Come meet and interact with Von Trapp Farmstead's herd of 50 pasture raised pigs. Participants will be able to enter the enclosure and get up close and personal with the pigs! You'll get to feed them their daily ration of bread, whey, veggies, apples, and grain. All participants who wish to enter the enclosure must wear long pants and hard shoes. Come learn about pasture health, rotational grazing with pigs, and meet the herd.
Bring a blanket and a lunch and enjoy a picnic adjacent to the pasture of the oldest registered fold of Highland Cattle in the United States. Gaze out at the Worcester Range and beyond to the Adirondacks, enjoying one of the most picturesque views in Vermont. Comb a Highland cow or calf and discover how peaceful communing with this heritage breed can be. Greenfield Highland's 100% grass-fed and finished beef can be purchased at the Plainfield farm.
Take a guided walk through Morse Brook's fields and enjoy the trails and views with their enthusiastic hiking goats. Please leave your canine companions at home, the goats will appreciate it!
Goat Yoga | Retreat Farm, Brattleboro | Saturday, August 14th, 9:00am - 10:30am
Join the talented teachers from Inner Heat Yoga on the Farm for a 1-hour session of Goat Yoga featuring Retreat Farm's herd of playful and curious baby goats, followed by a 30-min meet and greet. Kid goats are naturally curious and playful and love to climb on anyone and anything. This class is designed for all levels (including beginners) and focuses on deepening our connection to nature, nurturing communications with animals, and fostering mindfulness, breath, and meditation in a gorgeous setting with some sweet and cuddly assistants.
Taste something special!
One of the best parts of Vermont Open Farm Week is the sipping, sampling, and dining! From raw milk and smoothies to full-on farm dinners, these events are such a delicious way to experience Vermont farms!
Farm Dinners
Feast on delicious fried chicken served with organic side salads and maple cornbread at the farm! There will be live music, lawn games, trivia, and mural painting to round out this fun, family-friendly evening during Vermont Open Farm Week. Before the dinner, enjoy a hike across the street at the Richmond Town Forest trails. Don't forget that you can also place orders for Maple Wind's meats and eggs to pick up at the same time!
Farm to Table Dinner | Frog Hollow Farms, Hubbardton | Saturday, August 14th, 7:00pm
Join Frog Hollow Farm for their inaugural Farm to Table Dinner, prepared by owner and Executive Chef Janis Reinke in partnership with Appalachian Gap Distillery. Enjoy an open-air dinner, right on the farm, curated based on the season's bounty. Each plated course will be paired with an Appalachian Gap cocktail. Enjoy appetizers and a pre-dinner drink while you walk the farm and make your way to the orchard where you will dine on the top of the hill enjoying incredible views of the Taconic Mountains and Lake Bomoseen. The evening will finish with a bonfire and dessert behind the barn.
Visit Butterworks Farm during Vermont Open Farm Week to sample products and then join the farmers to walk the pastures, meet the cows, and discover the farm. Bring a picnic blanket or chairs and enjoy homegrown grass-fed hamburgers and fresh local side dishes!
Samples
You're invited to take a tour of the Farm Craft VT herb garden and apiary, where the owner of Rebecca Lindenmeyr will describe each herb grown and its uses, and the process of harvesting, drying, and distilling herbs for their essential oils - and how they are incorporated into products. Guests will have the opportunity to smell each plant and sample the products that are made with it. Rebecca will also open one of the hives and pass out samples of the fresh honey inside and discuss organic beekeeping and what it means to be a Bee Friendly Farm certified by the Pollinator Partnership. The tour will be both inside and outside - dress appropriately for the weather, it is a rain or shine event! This event is great for children. This event is not great for dogs, however, so please leave canine members of the family at home. All guests will receive a slice of soap and a coupon to use in the Farm Shop.
Visit Silloway Maple on Friday during Vermont Open Farm Week and explore Vermont maple! Enjoy a sugarhouse tour, taste free samples of the four maple syrup grades, take a self-guided hike through the sugarwoods, and have a maple creemee! They'll be offering hayrides at the top of each hour, too!
Have you ever toured a micro dairy? Meet the cows and see how Sunday Bell's milk is produced. Sample their fresh raw milk with a warm cookie and experience one of Vermont's quintessential foods for yourself.
Get crafty!
Cynefin Farm VT raises top quality wool from happy sheep. Visit Shepherdess Shiloh and Farmer Liza to discover how raw sheep's wool can be transformed into beautiful yarn and needle-felted creations! Shiloh will demonstrate each step from washing (scouring), carding and combing, spinning, and needle felting - and you're invited to try your hand at any and all of it, too!
Garlic braiding blends beauty, spice, and wellness! Join Farmer Eugenie Doyle for an on-farm garlic braiding workshop! While you're at the farm, be sure to purchase some of LRF's certified organic produce, jams, pickles, and more to take home.
Put your imagination and creativity to work as you transform rocks into our smallest woodland creatures during Vermont Open Farm Week!
Celebrate Vermont Open Farm Week with flower crown making for kids at Sweet Roots Farm, in partnership with Unity Farm!
To see a full list of Vermont Open Farm Week events, visit diginvt.com/vtopenfarm.
Photos (clockwise from top middle): Golden Apple Family Farm, Ellison Estate Vineyard, Sunday Bell Farm, Breadseed Farm, and White River Land Collaborative.
Funding for Open Farm Week was made possible by the U.S. Department of Agriculture's (USDA) Agricultural Marketing Service through grant
AM190100XXXXG100 . Its contents are solely the responsibility of the authors and do not necessarily represent the official views of the USDA.