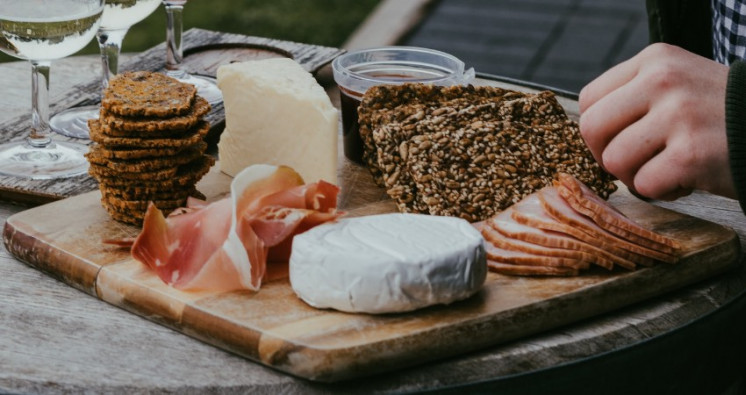 May is American Cheese Month! And here at DigInVT, we'll take any excuse to celebrate this special dairy product a little extra. When you think Vermont, you think cheese - and for good reason!
The Green Mountain State has more state-inspected cheese producers per capita than any other state in the nation, generating more than $657 million in annual revenue. Vermont's cheesemakers have won prestigious national and international awards from the Good Food Foundation, the World Cheese Awards, the World Championship Cheese Contest, and more!
With more than 225 varieties of cheese produced by over 60 cheesemakers, there are so many unique Vermont cheeses to discover, taste, and enjoy all throughout the year!
Visit a cheesemaker
Why not plan a trip to see where your favorite cheeses are made?
Use the Vermont Cheese Council's Vermont Cheese Trail Map to decide which ones to visit, or try to make it to them all throughout the year. This handy resource shows which places are open, which places require you to call ahead, and which milk the cheeses are made from - goat, sheep, or cow!
Or, see the list of cheesemakers on DigInVT and use our Trail feature to map out your route. You may also find some other Places to check out along the way.
Cook with cheese
The Vermont Cheese Council has some delicious recipes on their site. Make chocolate chèvre ice cream with local goat cheese, Grafton Village's Chili Con Grafton Cheddar Dip, and Vermont Creamery's Grilled Chicken and Lemony Greens with Apricot & Thyme Crumbled Goat Cheese. We're hungry just reading the recipes...
Try some cheese pairings
Check out our blog post on cider and cheese pairings featuring Citizen Cider, Cobb Hill Cheese, Blythedale Farm, Parish Hill Creamery, Jasper Hill Farm, Champlain Orchards & Cidery, Grafton Village Cheese Co., Green Mountain Creamery, Cabot Creamery Cooperative, and Eden Specialty Ciders, and set up an at-home tasting with friends!
Runamok Maple also sells a Cheese Pairing Collection featuring their infused syrups in four flavors - elderberry, smoked with pecan wood, hibiscus flower, and bourbon-barrel aged. See their blog post about which cheeses pair best with each flavor!
Cabot Creamery Cooperative will make all your pairing dreams come true with their online guides, focused on pairing their cheeses with herbs, charcuterie, nuts, spreads, pears, veggies, apples, and other fruits. They also have full guides on several varieties of beer and wine.
Take a cheese class
Participate in The Hunt
Vermont Cheese Council is bringing back The Hunt this year - a scavenger hunt and curated insiders' guide that will have you exploring Vermont's outdoor environment, history, and its cheeses!
This special challenge, organized by region, is kicking off sometime in July. Check out the website to get all the details and see last year's clue packets (this year's haven't been released quite yet). Once you complete a challenge, you'll be entered to win prizes! Last year's included cheese, of course, overnight stays at some of Vermont's best inns and B&Bs, Vermont State Park passes, and more.
We can't wait! (Hint - if you're visiting us from out-of-state, The Hunt is a great adventure to plan your trip around!)
Read our Meet the Cheesemaker series
Learn the stories from the folks behind the cheese and hear about the cows that provide the milk!
Join the Jasper Hill Cheese Club
Get monthly shipments of Jasper Hill's award winning cheeses and other exclusive goodies!
Join the Club! Each month, Club Members will receive an email detailing an exclusive collection of items; at least 3 cheeses will be included along with our favorite pairings, cheese tools, or other sweet merchandise. Expect premier access to special release cheeses and limited availability items not otherwise available in our store.
Next time you're looking for a gift for someone, consider Vermont cheese. It's a special part of Vermont that can be easily shared with your family and friends. Here at DigInVT, we feel that the best gifts are the edible ones.
For more information about Vermont cheese, please visit the Vermont Cheese Council webpage.