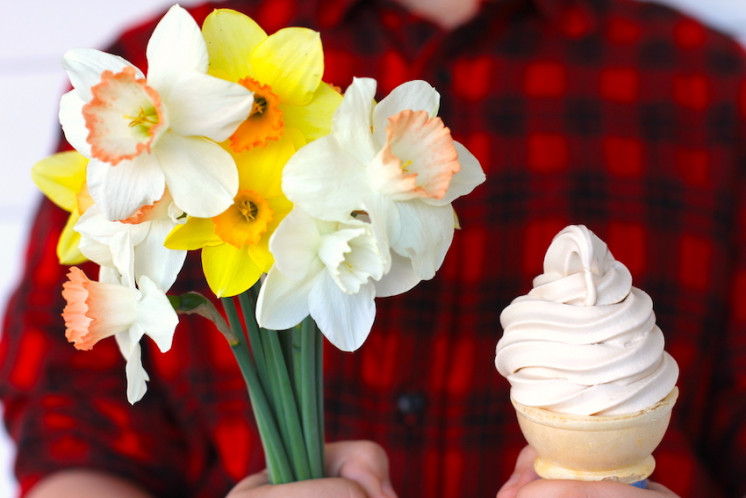 At DigInVT, we believe every day should be Mother's Day, but we also know that this year, May 12th is the "official" day.
Have you made plans yet? It's ok if you can't decide what to do (there are so many options). It's not too late, we've got you covered. And if you already have plans, why not add one of our recommendations to the day. . .
Brunch for everyone
The classic Mother's Day activity is to take Mom out for brunch. On Sunday May 12th, restaurants across the state are going all out.
Mary's Restaurant at the Inn at Baldwin Creek is a classic Vermont brunch destination in Bristol, and does not disappoint with their elaborate Mother's Day brunch special menu.
Elsewhere in the state, stop by Brattleboro favorite duo Restaurant or take in the beauty at Simon Pearce in Quechee where you can celebrate Mother's Day early on May 5th.
Further north there's also a special menu at The Essex, and it's opening weekend at the Inn at Shelburne Farms. In Burlington, Guild Tavern offers a brunch that includes southern style gravy and biscuits, as well as a carving board from their wood fired oven.
Flowers are always welcome
With the spring-time warmth of the sun, some mothers just want to get into the garden. Bring Mom to Red Wagon Plants or other area nurseries to buy flowers for her garden or perhaps a hanging basket for her porch. You can also help her celebrate all summer with a floral CSA from New Leaf Organics. Or sign your Mom up for a flower arranging class with Simon Pearce at The Essex Culinary Resort and Spa on May 11th. And for the future, be sure to make plans to attend the Grand Opening of Lavender Essentials of Vermont in Derby when they open June 30th. Mom will love it!
For the mom who likes to cook. . .
Sign her up for a baking class at King Arthur Flour in Norwich or check out the cooking classes at Richmond Community Kitchen. The Kitchen at the Store in the Mad River Valley is a great place to go shopping and take cooking class.
Hot tickets
If you're looking for gifts, try tickets for the Vermont Brewers Festival July 19-20 at Burlington's Waterfront Park. (Maybe with a bouquet, see above). Or save the date for Vermont Fresh Network's Annual Forum Dinner at Shelburne Farms. (Tickets go on sale June 1st.)
Vermont wine? Yes, please.
If your Mom likes wine, spend the day visiting our Vermont wineries. Plan your own tasting trail and build it with our trail tool.
Save the best for last...
Treat Mom to ice cream. And while you could spend the day touring Vermont just to decide on who has the best maple creemee, we think you should have a taste of the Maple Creemee at Morse Farm Maple Sugar Works in Montpelier. (DigInVT Pro tip: Get the Maple Kettle Corn sundae with Maple Dust on top. . . do not ask questions about how much maple you want in a sundae, the answer is maple in every possible form).
If chocolate is preferred, stop by one of the Lake Champlain Chocolates scoop shops in Burlington or Waterbury for a scoop of the Belgian Chocolate. Oh and don't forget to buy a box of chocolates to bring home.