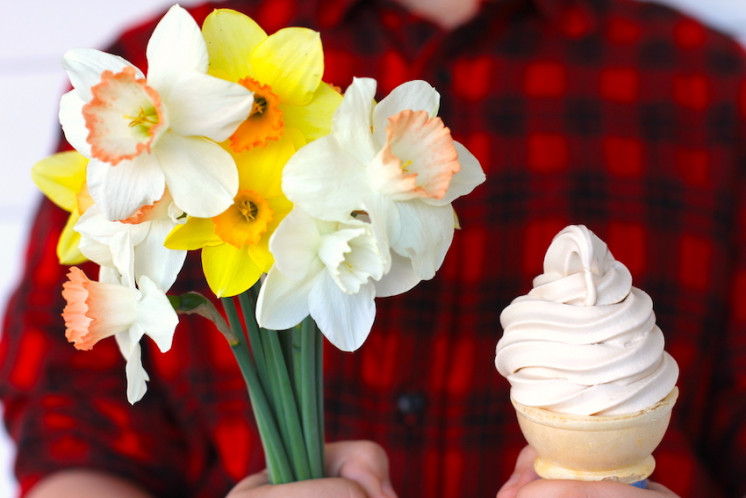 Mother's Day is almost here! This year, it's on Sunday, May 9th. Have you made plans yet? There are so many ways to celebrate - our local food and farm businesses have you covered.
Brunch!
It's a classic Mother's Day activity! What could be more fun than taking mom out to brunch?
Morgan's Tavern at Middlebury Inn has a special meal planned for the celebration. Click here to view the menu. Reservations are required. Call 802-388-4961 to book.
The Essex Resort & Spa will also be serving Mother's Day brunch from 9:00am - 2:00pm. Get the details here.
Mary's Restaurant at the Inn at Baldwin Creek is a classic Vermont brunch destination in Bristol, and does not disappoint with their elaborate Mother's Day spread. Patio and indoor dining are available by reservation. If you would like to place a takeout order, be sure to do so by 5:00pm on Saturday, May 8th.
If you'd prefer to take mom out for lunch or dinner instead, check out our full list of eateries on DigInVT.com here. Keep in mind, takeout is a great option, too!
Gift boxes
Shelburne Farms is offering free shipping on their Mother's Day Breakfast Box, which includes 1-year cheddar, maple syrup, granola, raspberry jam, and more! Get the scoop and order here.
Mad River Taste Place has a special Mother's Day Gift Basket featuring infused honey, tea, goat's milk caramels, and a handpainted card made by a local artist. Order here. Also available for in-store pickup.
MKT Grafton, Cheese & Wine Traders, J.J. Hapgood General Store & Eatery, and Boston Post Dairy are also great places to order gift boxes from! They each offer many options with great Vermont products mom will love, like cheese, maple, specialty foods, baked treats, and more.
Garden goods
Some mothers love to garden! Take yours to Red Wagon Plants, or another nursery near you, to buy some perennials, veggie starts, or perhaps a hanging basket for the porch.
New Leaf Organics is offering special Mother's Day bouquets for delivery. Multiple size options are available. Order by May 6th. Get all the details here. They also have a Flower Share CSA for fresh flowers all summer long - another fabulous gift idea!
Sandiwood Farm in Wolcott also has a Flower Share CSA! Mom will surely enjoy ten bouquets throughout the summer. Sandiwood is also hosting Farm to Ballet - tickets to this special event would also make a wonderful gift.
For the mom who likes to cook...
How about a baking class with King Arthur Baking Company? They are offering virtual classes at the moment - so even if you live far from the special mother figure (or figures) in your life, you can do it together. On May 9th, options include cream puffs and eclairs, French macarons, dark chocolate buttercrunch, and more!
Brot Bakehouse School & Kitchen has several classes lined up within the next couple of months. Would mom enjoy learning to make items for "a breakfast table in France," or sourdough bread? Check out the full class schedule here.
The Essex Resort & Spa has a special sale going on for the occasion - 20% off gift cards worth $150 or more! Recipients can put it towards a Cook Academy class, a meal featuring local ingredients, or even an overnight getaway or spa treatment.
Vermont beverages? Yes, please.
If your mama likes to sip on local drinks, Vermont's beverage makers have you covered! Find options at the links below.
Wineries & Distilleries - Visit one (or more) in your area to pick out a bottle - there's something for everyone!
Breweries & Cideries - Grab a four-pack and some branded glassware. Vermont has many options to choose from, get a few for an at-home tasting.
Aqua Vitea and Savouré are delicious, and local, non-alcoholic options!
Many of our local food markets stock local wine, beer, cider, and more! While you're there, get some Lake Champlain Chocolates, cheese, and more, to give alongside them.
All of these beverages will complement a delicious meal. If you are able to visit, consider cooking mom something special. Visit a farmstand or food market near you for the best Vermont ingredients.
Save the best for last...
Sweet treats are always welcome! For a whole slew of Vermont maple gifts, check out our gift guide from this past maple season.
Take mom to Ben & Jerry's for a scoop or two of ice cream using local dairy! Or a maple creemee and maple popcorn at Morse Farm Maple Sugarworks. Make a day of it with DigInVT's Maple Creemee Trail (be sure to verify open hours before visiting).
The Grafton Inn believes "the best things in life are sweet," and has dessert gift boxes available for pre-order! Each one includes housemade ice cream and a selection of Grafton Inn confections. See the order form here.
And don't forget treats from Lake Champlain Chocolates - they have locations in Burlington and Waterbury.
Happy Mother's Day to all that are celebrating!