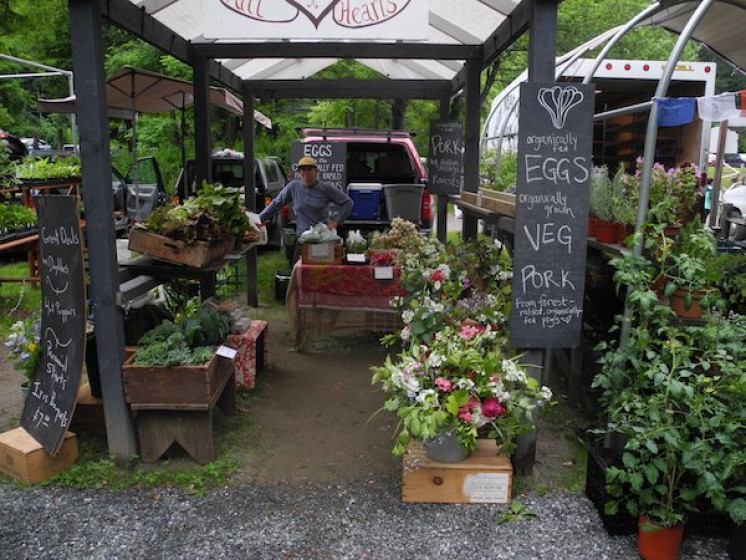 The transition from indoor winter markets to the outdoor markets is always exciting. The weather is warmer, the trees are blossoming, and everything is turning from the dull brown of mud season to the bright green of late Spring. Although some start earlier, Memorial Day Weekend is really the official start of the outside season for Vermont farmers markets; it's time to visit our favorite market, enjoy the fresh fruits and vegetables of the season, meet friends, and soak up the lively atmosphere.
The outdoor market season is also a great excuse for a day trip - a chance to explore a town and its environs starting with the food, crafts, and treats at their local farmers market. We'll highlight favorite day trips throughout the season (and encourage readers to send their suggestions, too!). Here are a few to get you started.
First things First
No matter where you decide to go, don't forget to bring a cooler with ice packs. Even if you don't think you'll need it, you never know when you'll find that perfect cheese - and that isn't conducive to sitting in a hot car as you're out sightseeing. Also, many markets and towns have special events planned during the summer so before you go, be sure to check out the market's website or social media (linked from their Place pages) to pick the best weekend for your visit. Or, of course, check the DigInVT calendar of events for other special food happenings near by.
Waitsfield
Make plans to see the Mad River Valley in the summer. The Waitsfield Farmers Market on the green brings out the community. Families, couples, kids, dogs...they are all there for a morning of music, food, and farms. Grab a slice of wood fired oven pizza for a picnic while listening to the band of the week.
Right across from the market is where you can take a cooking class and shop for kitchen supplies and specialty food items - a great place to find gifts for your favorite cook.
This is also your chance to visit the Mad River Taste Place, a learning center, tasting gallery, retail store, and gathering place focused on local, artisan food and drink. Images, text, and video tell stories of individual producers. Their walk-in cooler offers the best collection of Vermont beverages around, as carefully curated as their cheese counter.
The Taste Place also offers a chance to sample local distillers, and if you want a more in depth experience, make reservations in advance for a Mad River Distillers - Warren Distillery tour and tasting.
For dinner visit the original American Flatbread at Lareau Farm, very laid back and very delicious. (Protip: Put your name in at 4pm, grab a beer and relax outside while you wait for your table).
Where to stay: If you'd like to make this an overnight excursion, The Lareau farm where American Flatbread is located is also an inn. You can also stay at Inn at the Round Barn Farm. Both offer a great place to stay with food that showcases the local food of the valley.
Norwich
From the Mad River Valley to the Upper Valley of the Connecticut River: the Norwich Farmers Market in historic Norwich, Vermont brings together vendors from both sides of the river (for those not from around here: we call the other side of the river "New Hampshire"). The vendors offer a large variety of jams, fruit and vegetables, wild mushrooms, local meat, cheese, flowers and yarn from local sheep.
Right down the road is the King Arthur Flour Bakery and Store. If you bake, you'll be able to find anything you need at the store - from specialty flours, to cake pans, to chocolate and even a busy schedule of cooking classes in their state of the art teaching facility; it is heaven on earth for home bakers and pros alike. Both small kids and big kids will enjoy the nearby Montshire Museum and its walking paths.
If you're still hungry after visiting the market (and perhaps grabbing a pastry at King Arthur), there are a lot of great options. The closest is The Norwich Inn, in the heart of the village next to the market. You can visit for Saturday brunch or go downstairs and grab a seat at Jasper Murdock's alehouse, for pub fare and their ever changing menu of beers brewed in-house.
Norwich is a quick drive away from both Woodstock and White River Junction, an area with a rapidly expanding local food scene - be sure to check the latest restaurant listings and special menus on DigInVT.
While exploring the larger region, try a visit to the Billings farm and museum for a taste of historic farm life, or taking a shopping trip to Quechee's Simon Pearce glassworks gallery (co-located with their elegant Simon Pearce) restaurant. If you didn't pick up quite enough food items at the Farmers Market, Cabot Creamery also offers a .
Where to Stay: For a refined bed and breakfast experience make a reservation to stay at the Jackson House Inn. Or for a unique lodging experience on a small working farm, visit Fat Sheep Farm and Cabins which is located on 60 acres in Hartland.
Brattleboro
Further down the Connecticut River, the Brattleboro Area Farmers Market features over fifty vendors of hand-made crafts, agricultural products and prepared food. This market is a snapshot of Southern Vermont farms and food producers in a town known for its offbeat food culture, including the world famous Strolling of the Heifers downtown cow parade and community fair.
After the market, if the kids want to get a little more farm time in, they can visit Retreat Farm, with children's activities, a forest playground, 180 year old historic farmstead on 500 acres devoted to education, recreation, and farming.
Adults may want to take some time along the southern portion of the Vermont Beer Trail - stopping by the Hermit Thrush Brewery, McNeill's Pub and Brewery, and Whetstone Station Restaurant and Brewery, and Beer Naked Brewery in nearby Marlboro, for a mini-tour of favorite Brattleboro area brews. (Did you know there's a Vermont Brewery Challenge from the VT Brewers Association? For those who are serious about exploring the state's beer options).
Vermont yarn is serious business. If you are one of the fiber folk and like to search out new and interesting yarns, Green Mountain Spinnery is 15 minutes up the road. Begun 30 years ago, this cooperatively owned spinnery stays true to their original mission: to create yarns of the highest quality, to help sustain regional sheep farming, and to develop environmentally sound ways to process natural fibers.
Where to Stay: Scott Farm Orchard and Market in Dummerston is an amazing apple orchard full of historic and heirloom apple varieties, that also offers historic rentals, including Naulakha - the house where Rudyard Kipling wrote the Jungle Book.
No matter where you decide to go or which farmers market to visit, you will always discover something new. Whether it is a new favorite cheese, or a farm that grows a hard to find fruit, the first step is to find a map of Vermont and look for a spot you've never visited. Because that is the first place you should go.
Do you have a day trip you'd like to suggest? Let us know at [email protected].