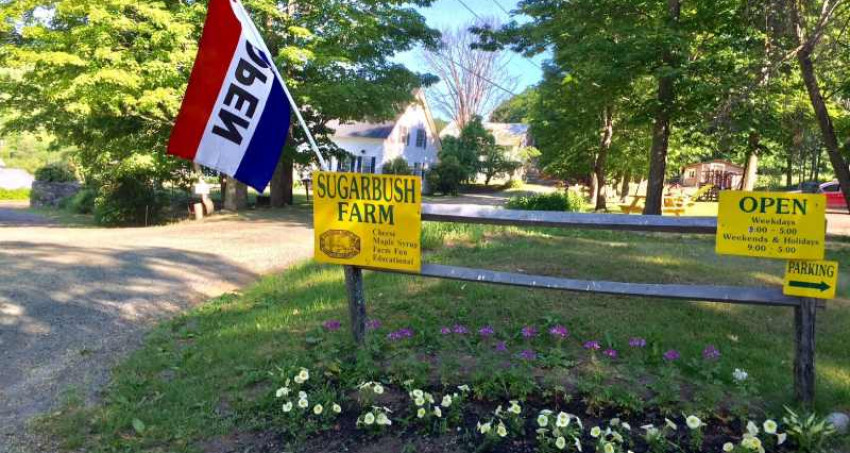 Sugarbush Farm has been in the family for 71 years. A beautiful 5 mile rural drive & views from Woodstock are worth the trip alone. Visitors receive personal sampling, along with explanations of how to store products, tips on using maple syrup and cheese in cooking.
Savor the free samples of 14 varieties of cheese, Pure Vermont Maple Syrup, and Vermont made foods. Learn about maple syrup making with the sugar house tour, walk the nature trail to see the sugar maple trees, make friends with the farm animals, enjoy the lovely views, and visit with real farmers.
If you can't make it to the farm, they sell their products online. They offer same day shipping and guaranteed satisfaction from a family farm with 60 years of mail order experience.
Four season farm!
Enjoy a Walk on the Farm
The trail is about 20 minutes of up and down a hill into the maple woods. You will see how trees are tapped with plastic tubing and along the way will see signs with maple syrup information.  As they are a sugaring farm, pick up a Junior Sugarmaker Quiz in the farm store, and as you walk the trail, find the questions & answers along the way. There are lots of picnic tables, farm animals to pat, and a sugar house self tour with video.
Maps
To visit the maple sugar trails go from the main parking lot, cross the red covered bridge and follow the signs.
Wheelchair Accessible
No
Off Limit Areas
There are electric fences in use throughout the property. All electric fences and off-limit areas are clearly marked. As a working farm, walkers should be aware of heavy machinery and groups of animals being moved on the farm road.
Pets
Dogs are welcome and must be leashed and under your control at all times. 
Extra Info for Walkers
Restrooms are located in the farm store.
Park in farm parking lot.
Some cell service depending on your carrier.
From The Blog