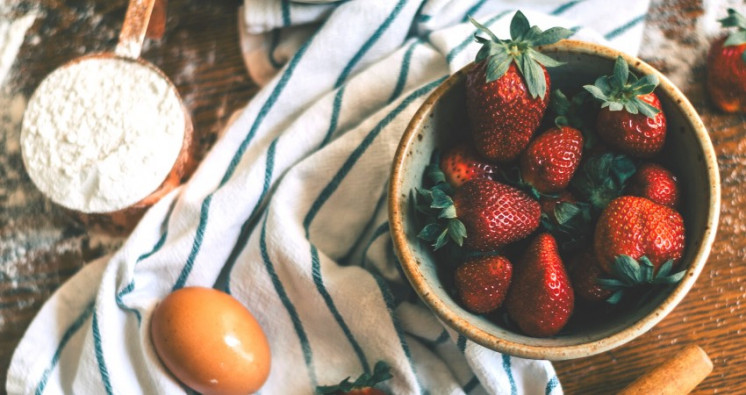 There are certain times of the year that are extra special and strawberry season is definitely one of them! It's the first fruit to ripen in the spring (rhubarb is a vegetable, after all), and the one that marks the beginning of summer here in Vermont.
There's simply nothing like strawberry shortcake made with berries still warm from the sun and fresh cream from a local dairy! But that's not the only way to celebrate this special Vermont fruit. Check out our suggestions below to make the most of strawberry season!
Visit a Berry Farm
Whether you head to a farm right down the road or plan a day trip to try out a new one, picking your own berries is a classic Vermont summer activity! It's fun, and you can't get fresher berries than the ones you pick yourself. Get enough to make shortcake or jam, but don't forget an extra pint for the trip home.
Most farms also have some just-picked berries available, too, if that's more your speed.
Find a u-pick farm here. Be sure to contact the farm before your visit to find out what's in season and the current visiting hours. To make a day of it, see our Trail options or build your own!
Head to a Farmers Market
Another great place to get your local berry fix is at a farmers market! Summer markets are in full swing. Check out our blog post from this spring with all the tips to maximize your experience, as well as a list of the options by county. Chances are you'll find other treasures on your visit, too!
Bake with Berries
When we think baking, we think King Arthur Baking Company! A simple "strawberry" search on their site returns over 60 recipes featuring this delicious fruit! Which one will you try?
Make Jam
Don't just stop at baking - make a delicious spread for your toast or to add to your cheeseboard (or to eat with a spoon!).
Have you ever made freezer jam? Try this recipe from Farm Flavor to get you started! Or go the traditional route with this recipe from AllRecipes.
If you would rather leave the jam making to the pros, try the following:
Sip a Strawberry Beverage
Make the most of strawberry season with a festive beverage! Our local craft beverage makers and bar staff have you covered. Check out the options below!
Beer
Wine
Cider
Try mixing up a "Spruced Up G&T" with Barr Hill Gin, get a "Teacher's Pet" from SILO Distillery, or head to your local watering hole or eatery and see what delicious seasonal cocktails they're mixing up!
Have a wonderful strawberry season!