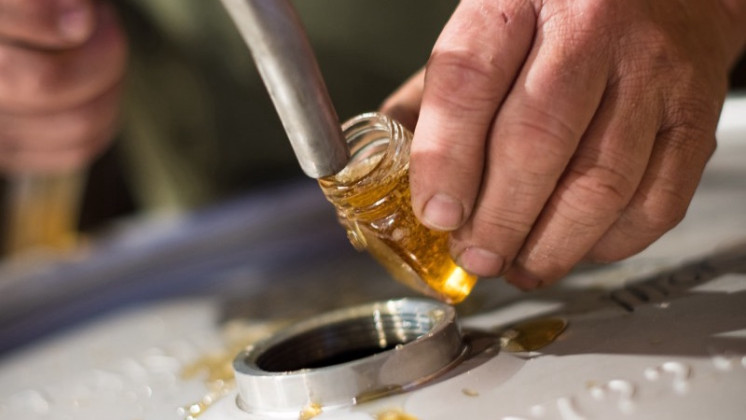 Spring in Vermont means the snow is melting, the roads are getting muddy, and the maple sap is flowing. There are more than 1500 sugarhouses in the state of Vermont, and in the early spring, they're busy tapping trees and boiling sap into a Vermont favorite - maple syrup! Although Vermonters love celebrating maple all year long, we go crazy for liquid gold During Maple Open House Weekend, March 24-25 & April 1-2, when sugarhouses all over the state open their doors for visitors to see the sap boil in action.
Here are 10 ways to maximize your Maple Open House Weekend experience.
1 - Start the day off right!
It may sound simple, but pancakes (or waffles!) with maple syrup is a classic breakfast combo for a reason. Several Vermont maple farms, including Palmer's Sugarhouse in Hinesburg, Smith Maple Crest Farm in Shrewsbury, Vermont Trade Winds Farm in Shoreham, and Wyckoff Family Maple in Jeffersonville are offering pancake breakfasts during this year's Maple Open House Weekends.
If you prefer your syrup in waffle squares, try Baird Farm in North Chittenden, Bourdon Maple Farm in Woodstock, Harlow's Sugar House in Putney, Moose Mountain Maple in Underhill, Papa John's Sugar Shack in Mount Holly, and Silver Lake Syrups in Barnard.
AO Glass in Burlington is even getting in on the breakfast food fun with a waffle truck, tastings from Runamok Maple, and glassblowing demos!
2 - Have a tiny adventure
Most maple events are kid-friendly by nature, but a few sugarhouses are offering activities specifically designed for little ones. April's Maple in Canaan will have a maple craft corner. McKnight Family Maple in Johnson, Jed's Maple in Derby, and Mance Maple in Shaftsbury all have some kid-friendly activities on the agenda as well. The Audubon Center in Huntington will also be hosting a fire side story hour, scavenger hunt, and other fun activities specifically designed for a younger crowd! Or swing by Snow Farm Vineyard for a "Be a Maple Tree" activity at 10:30am, and stick around for sugarhouse games at 1:00pm!
3 - Learn the history
Vermont's sugaring tradition has a rich history, and so do many of the independent sugarhouses! Green's Sugarhouse in Poultney is offering tours and sharing information about the history of sugarmaking in Vermont. Stop into Bread Loaf View Farm's Maple Museum in Cornwall, jam packed with historical maple displays.
4 - Maple sugar to maple sweets
Vermonters know that maple can add a whole new character to some of our favorite go-to sweets. Choice Maple in White River Junction, Elm Grove Farm in Woodstock, and Farnham Farm Maple Sugaring in Plainfield are just a few of the many farms serving up maple donuts during Maple Open House Weekend this year! Grab a maple creemee - a Vermont classic - at Gagne Maple in Swanton, Palmer Lane Maple in Jericho, Bragg Farm Sugarhouse in East Montpelier, and Vermont Maple Outlet in Jeffersonville. Maple City Candy in Swanton is a must-visit for maple candy, maple coated popcorn, and maple coated nuts.
5 - Sip your sugar
14th Star Brewing in Burlington will be pouring beers brewed with syrup and sap. Bar Hill in Montpelier will host a wood fired sap boil in collaboration with Vermont Evaporator Company, while serving up pancakes, maple donuts from Local Donut, and maple-inspired cocktails. Join Switchback Brewing for some maple donut and beer pairings and maple cooked hot dogs. Saxton's River Distillery in Brattleboro will be serving up maple liquor and - get this - maple milkshakes!
6 - Variety is the spice of life
Many of us are familiar with the maple grading system (if you're not, learn all about it in this guide from Vermont Maple!). Some sugarhouses go even further and create delicious flavor combinations, to add depth and dimension to their syrups. Glastenview Maple Farm in Shaftsbury of course makes pure Vermont Maple Syrup, but also will be offering samples of their Bourbon Barrel Aged Maple Syrup, Sumatra Coffee Bean Infused Maple Syrup, and Cinnamon Stick Infused Maple Syrup.
7 - Party on
Lunenburg's Top of the Common Committee has been hosting a maple festival for the past 15 years, and you're invited to join this year's festivities! On Saturday, March 25, enjoy a maple breakfast, sugaring demos, homemade lunch items, interactive displays, raffles, maple cotton candy, quilt and pie contests, and more!
8 - Hike, ski or snowshoe
Explore Fradettes Maple Syrup's sugarbush on foot in Hardwick, or explore the trails around Mike & Terry Couture's sugar house in Westfield. Mike & Terry are also offering free sleigh rides (weather permitting)! When you're done exploring the woods, head back to the sugar shack to warm up with hot syrup samples and other maple treats.
9 - Savor your maple
Many sugarhouses have traditions of balancing the sweetness of maple with something a little more savory. Back Ledge Maple in Johnson will be serving up maple BBQ pulled pork, hot dogs cooked in sap, maple baked beans, and maple coleslaw. Grab a maple hot dog at Palmer Lane Maple in Jericho, and enjoy a pickle with your sugar on snow at Mountainview Mapleworks at the Giroux Family Farm in Richmond.
10 - Animal farm
Many Vermont sugarhouses have other farming operations, and are offering visitors the opportunity to interact with some of the four-legged friends on the farm! Goodwin Family Maple in St. Johnsbury will have miniature cows and horses onsite to interact with during Maple Open House Weekend this year. Feed the sheep at End-O-Road Maple in Jericho, and visit the animal barn at Taft's Milk & Maple Farm in Huntington.
Bonus - SUGAR. ON. SNOW.
Each sugar shack has their own way of serving this sticky iconic treat. We recommend making a sugar on snow sugar shack track to sample as many as you can! Check out the Maple Open House map to plan your route.