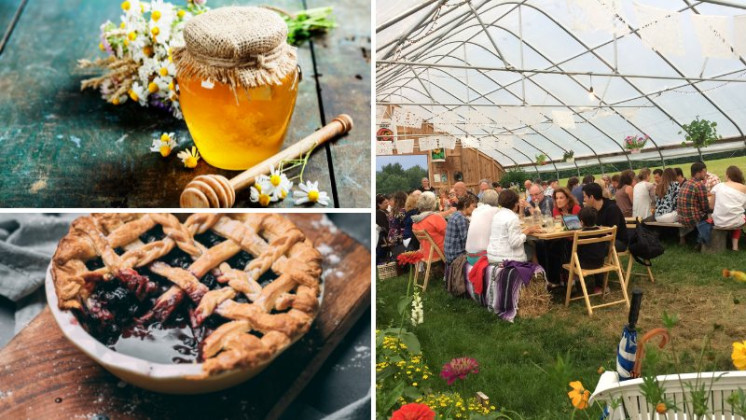 During the 8th annual Vermont Open Farm Week, (August 7th – 14th), farms around Vermont open up their doors to the public for a unique on-farm experience. With 53 farms hosting over 105 events during Open Farm Week, there's a lot going on!
Some of the coolest (and most delicious) experiences are the on-farm tastings. At these special events, you'll find breathtaking views, warmhearted people, and of course, farm-fresh food and drink experiences. Check out the farms below to find a unique tasting event near you during Open Farm Week!
*********************************************************************************************************************************
Sunday, August 7th
Bread Loaf View Farm,Cornwall
10am-4pm
Bread Loaf View Farm will swing the sugarhouse doors open once again to welcome guests. Visit during Vermont Open Farm Week for an Ice Cream Social on Sunday, August 7 and get the complete sugarhouse experience!
Bread Loaf View has a self-guided "Sugarwoods Trail" where you'll discover what makes maple unique in nature, and view the assorted ecosystem features of their forest. And a visit to the farm is not complete without browsing through the ever-changing Maple Museum, curated and presented by Chuck Hermann. Find out how Vermont's time honored maple harvesting practices came about and how little some have actually changed.
Sugarhouse Tours
Bourdon Maple Farm,Woodstock
10am-2pm
Visit Bourdon Maple Farm for a tour of the sugarhouse and to sample their organic maple syrup, handcrafted just this spring. See how a modern sugarhouse works with the latest innovations in technology and learn how sap turns into sweet golden maple syrup. Sugarmaker Meg Emmons will be bottling syrup so you'll be able to experience the sweet smell of sugaring season and taste warm maple syrup as if it had just come off the evaporator.
Maple Flower Farm, Bethel
10am-4pm
Visit Maple Flower Farm and enjoy a stroll through the beautiful gardens on your way to the rustic sugarhouse. Visitors will have a chance to taste the unique flavors of pure maple syrup crafted on six small family farms! The farms are all located in central Vermont and are part of the Maple Farmers collective. The small-batch wood-fired maple syrup is traditionally made without reverse osmosis. Cory Krieg will be on hand to answer your maple sugaring questions and discuss Maple Farmers. Liz Krieg will be in the flower workshop sharing her flower farming expertise gained over the last four decades of work in the green industry. The event will be rain or shine with parking along the quiet dirt road.
Tuesday, August 9th
Vermont Youth Conservation Corps, Richmond
4:30 pm-6pm
Visit the Farm at VYCC (Vermont Youth Conservation Corps) for a guided farm tour, including our market garden, production fields, compost chicken set up, the beautiful landscape. The tour will include a stop to meet and hear from the AmeriCorps Production Crew Members. Participants will even get to taste some of the veggies grown on the farm!
Wednesday, August 10th
Billings Farm & Museum, Woodstock
3pm-6pm
Stop by the Billings Farm Cheese Stand at the charming Market on the Green in the center of Woodstock, VT. Sample their delicious Butter Cheddar, Smoked Cheddar and Woodstock Reserve Cheeses, all of which are available for purchase.
Lavender Essentials of Vermont, Derby
6pm-8pm
It's National S'mores Day and Lavender Essentials of Vermont is celebrating! The first published account of S'mores was in 1927 in the book "Tramping and Trailing with the Girl Scouts." Loretta Scott Crew is credited for making her girl scouts troop S'mores by the campfire. In celebration, there will be S'mores for sale—both the original as well as deluxe and crazy varieties! They're sure to bring out the kid in everyone.
Thursday, August 11th
Paisley Scoops Gelato, East Fairfield
11:00am
Participants will be invited to take a farm tour at Paul-lin Dairy on Thursday, August 11th at 11am, meet a cow and calf, and learn about how the farm runs and how the quality milk is made. The tour will end at the gelato making trailer where participants can sample freshly made gelato on the front lawn under our lovely maple grove. Feel free to bring a picnic to enjoy! Please RSVP to [email protected] by August 8th.
Common Roots, South Burlington
3pm-6pm
Join Common Roots in their Growing Gardens, an educational space made up of 30 raised beds at the Common Roots Farm at South Village. Get your hands dirty while helping grow vegetables for Summer Field Trips and the South Burlington Food Shelf. Taste farm fresh samples made by Chef Anthony at the farmstand. There will also be a presentation on their Abenaki Gateway Garden that is part of the Abenaki Land Link Project. Storytelling and fun activities for the kids! The work in Growing Gardens will be from 3-5pm and taste tests at the farmstand are 4-6pm.
Wilson Farm, Greensboro
5:30pm-7:30pm
Join for a farm-fresh pizza and a celebration of Wilson Farm in Greensboro! Wilson Farm is an organic culinary and medicinal herb farm and small batch apothecary. Through care for the soil, pollinators, beneficial insects, and other organic practices, the Beer family produces high quality herbal teas, tonics, and elixirs. They run a market with an abundance of fresh and nourishing food from the regional farmers and producers, scooped ice cream, refreshing drinks, and more. They will be scooping their own (new!) herbal ice cream. RSVP and enjoy dinner baked in NOFA-VT's wood-fired pizza oven, followed by a farm tour.
Lavender Essentials of Vermont, Derby
6pm-8pm
Join Lavender Essentials of Vermont for a sunset marshmallow roast! Kids can roast for free! Each child will be given an individual package of marshmallows. Option to purchase additional marshmallows. S'mores and hot dogs will be available for purchase.
This event is weather permitting. It will be canceled if it's too windy or raining. Large parties should call in advance to ensure preparation for all guests.
Friday, August 12th
Hardwick Farmers Market, Hardwick
3pm-6pm
Head to Atkins Field from 3:00pm - 6:00pm on Friday, August 12th for an afternoon of summer fun to celebrate Open Farm Week and the NEK's vibrant agricultural community! There will be traditional craft demonstrations, farm animal viewings, tastings, live music and more to celebrate the role agriculture has and continues to play in the community.
Head Over Fields, Charlotte
3pm-6pm
Visitors can join in Head Over Fields farm crew's weekly tradition of sampling some delicious cheeses from some incredible Vermont farmers in their farm stand. This tasting is free, and cheeses and other products can be purchased.
Billings Farm & Museum, Woodstock
5:00pm-7:30pm
Learn all about Jersey cows while sampling craft beer and cocktails and enjoying live moo-sic. Food truck fare will also be available for purchase during this festive evening at Billings Farm & Museum.
Silloway Maple, Randolph Center
5pm-7pm
Enjoy pancakes with Silloway's very own maple syrup, sausage, and watermelon as well as tours of the sugarhouse and/or a self-guided hike to the sugarwoods to see the sap lines. There will also be Maple Creemees! Dinner is $25.00 for a family, $8.00 for a child, $5.00 for children under 8. No registration required.
Maple Wind Farm, Richmond
5-7pm
Let Maple Wind Farm cook for you! Come out to the farm in Richmond for a classic Maple Wind Fried Chicken dinner - drive thru style! Please select the time window that works best for you and be here within that time-frame. The chicken plan dinner (yes, it's gluten-free) includes a piece of breast and a drumstick, which are buttermilk brined and dredged in Nitty Gritty Cornmeal then fried to perfection, 2 portions of side salads (made by Bear Roots Farm Kitchen), and Maple Wind's famous maple cornbread. Drive thru and head out for a picnic or bring home. Preregistration is highly recommended. Walk-ups may not be accommodated as capacity is limited. $22/plate. Vegetarian option is also available.
Saturday, August 13th
Adam's Berry Farm, Charlotte
8am-6pm
Adam's Berry Farm will have berry pie slices and ice cream for sale!
Brookfield Bees, Brookfield
11am-3pm
Brookfield Bees honey is raw, unprocessed, with no pasteurizing or filtering so it has all the good things honey can provide! The farm boasts a huge collection of honey from all over the country and the world, from Maine to Alaska and Iceland to New Zealand, and visitors will have an opportunity to taste honey from various locations and various floral sources.
Lavender Essentials of Vermont, Derby
12pm-3pm
Join for the 1st Annual Mac n Cheese Fest at Lavender Essentials! Some of the area's best restaurants and food purveyors will be dishing up their best Mac n Cheese for visitors to try! Ticket includes samples of each Mac n Cheese, entry for door prizes and the opportunity to vote for 3 categories: Best Tasting, Most Unique, and Crowd Favorite. There are prizes for each category.
Full Belly Farm, Monkton
12pm-5pm
Full Belly Farm will be dishing up two days of delicious farm-to-table barbeque fare. Each day will feature both classic and unique dishes made with fresh produce and locally sourced meats. Also, their blueberries will be available for PYO, and they will be serving creemees made with their fruit! The farm will be open for people to walk around and explore, and the Full Belly team will be available throughout the day to talk with people about our operation, give informal tours and answer questions. Please RSVP to [email protected]
Head Over Fields, Charlotte
12pm-6pm
Open Farm Week just so happens to fall during high tomato season so Head Over Fields is celebrating with a little friendly competition! Their field ripened slicers and heirlooms will be abundant, and the ycould use a little help deciding which ones to keep growing. Stop in the farm stand between 12 and 6 to sample a variety of juicy tomatoes. Cast your vote and be entered to win a $25 gift card to the farm stand!
Snug Valley Farm, East Hardwick
4pm-10pm
Help Snug Valley Farm celebrate Open Farm Week with a pasture walk, pot luck, whole hog BBQ and live music from farmer friends in East Hardwick, VT. Enjoy a tour around the farm to see their grass-fed beef grazing on pasture, pigs out on pasture and sheep. Farmer Ben Nottermann will talk about the true meaning of regenerative agriculture and how their animals help sequester carbon and rebuild soil health.
Howling Wolf Farm, Randolph
5pm-9pm
Randolph community favorite Village Idiots will be performing pond side at Howling Wolf Farm with their delightfully eclectic take on 80s and 90s tunes from Chris Isaac to Cyndi Lauper to Prince AND MUCH MORE. Bring a lawn chair, blanket, and a jacket just in case. It's a lawn party! Want to grab dinner at the event? There will be pulled pork BBQ and fixings available from 5-7 pm.
Sandiwood Farm, Wolcott
6pm-9pm
Come meet the growers Bob and Sara Schlosser, see some of the crops, experience an amazing sunset while enjoying live music from by Chris Lyons & Tristan Sellars, local musicians that will get you moving and grooving. A gourmet chef will be making a vegetarian boxed picnic dinner including farm raised produce, local bread, cheese, & more. Dessert will be included along with a complimentary local brew or lemonade. Bring a blanket, tables will also be set up outside and in our agritourism greenhouse. Rain or shine event!
Frog Hollow Farmstead, Hubbardton
6pm-10pm
Join Frog Hollow Farmstead for a Farm to Table Dinner, prepared by owner and Executive Chef Janis Reinke in partnership with Shelburne Vineyard & IAPETUS. Dinner features a 5 course meal curated based on the season's bounty and wine pairings from Shelburne Vineyards. The evening will finish gathered around a bonfire, enjoying conversation and community.
Sunday, August 14th
White River Land Collaborative, Turnbridge
12pm-4pm
Celebrate community and learn about the White River Land Collaborative at this special Open Farm Week event! This celebration for all ages will include live music, local food, guided farm tours, and other interactive opportunities to connect with community and learn more about the White River Land Collaborative.
Head Over Fields, Charlotte
12pm-6pm
Head Over Fields will be closing out Open Farm Week with an extra special day of free samples from their favorite VT producers. Visit the farm stand between 12 and 6 to join in the fun, and taste the best VT has to offer!
Baird Farm, North Chittenden
2pm
Sit back and picnic while you watch the first annual Great North American Maple Pie Contest go down! Activities will include: pie contest with local celebrity judges, pie throwing, and of course eating pie and ice cream! The winner of the pie contest will receive a year's supply of maple syrup and other pie themed prizes! Lawn games, pie themed music, and fun for the whole family!
Brookfield Bees, Brookfield
11am-3pm
Brookfield Bees honey is raw, unprocessed, with no pasteurizing or filtering so it has all the good things honey can provide! The farm boasts a huge collection of honey from all over the country and the world, from Maine to Alaska and Iceland to New Zealand, and visitors will have an opportunity to taste honey from various locations and various floral sources.
So come meet the beekeeper, see an observation hive and find out why honey from the supermarket just cannot compete! Their maple syrup, boiled cider, soap, shea butter, and beeswax products will also be available for purchase.