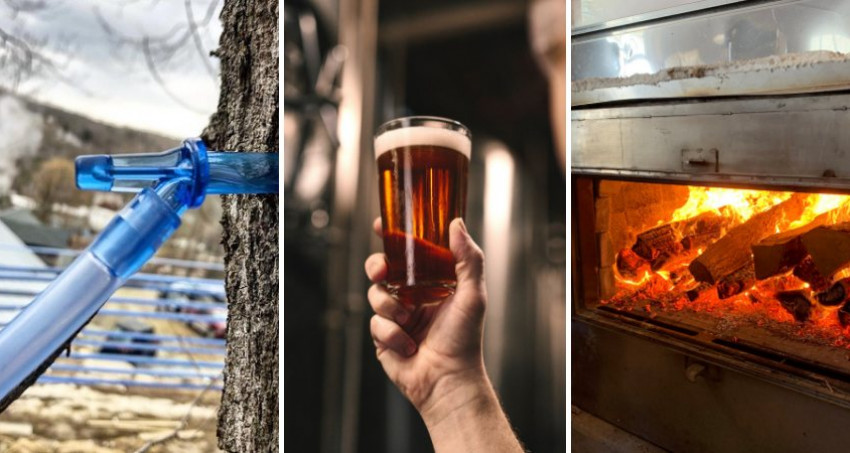 We love everything maple - and that includes beer. Craft breweries throughout the state feature one of Vermont's finest specialty products in a variety of different beers. Whether you like it dark, light, hoppy, or malty, there's a maple beer for you on this list.

Celebrate Vermont maple this fall foliage season with The Maple 100! Created by the Vermont Agency of Agriculture, food & markets in collaboration with Vermont Tourism and many other state partners, The Maple 100 presents the chance for all of us to learn more about how maple syrup is made, where it comes from, and the beauty Vermont's maple trees add to the landscape this time of year (and always).
*************************************************************************************************************************
Oatmeal stout brewed with local maple syrup and Northern Bayou cold brew.
Lightly hopped red ale featuring Vienna malt, brewed using maple syrup harvested right at the brewery.
Traditional brown ale containing subtle notes of chocolate and smoke, maple syrup is added for additional complexity.
Maple syrup bourbon barrel-aged English-style barleywine.
Brewed with loads of roasted and black malts with a hefty dose of Vermont maple syrup, then aged in Mad River Distillers PX Rum sherry casks.
Stout made with dark malts and Vermont maple syrup.
A brown ale made with Vermont maple syrup from Purinton Maple Farm of Huntington and aged in WhistlePig Rye Whiskey barrels.
Robust and rich maple ale loaded with pure Vermont maple syrup from Purinton Maple in Huntington.
Made just once a year during sugaring season with 100% maple sap, no water added - just barley, hops, and ale yeast.
Classic brown ale brewed with added sweetness from Vermont maple syrup, released each autumn.
A dark mild session beer (between a brown ale and a porter) brewed using maple sugar.
Mildly sweet American amber wheat brewed with locally sourced maple syrup from Mansion House Maple.
Smoky, full-boded lager with Rauch, Munich, and Carafa malts and maple from the von Trapp Family Sugarhouse.
Best Season to Visit
Spring, Summer, Fall, Winter
Related News