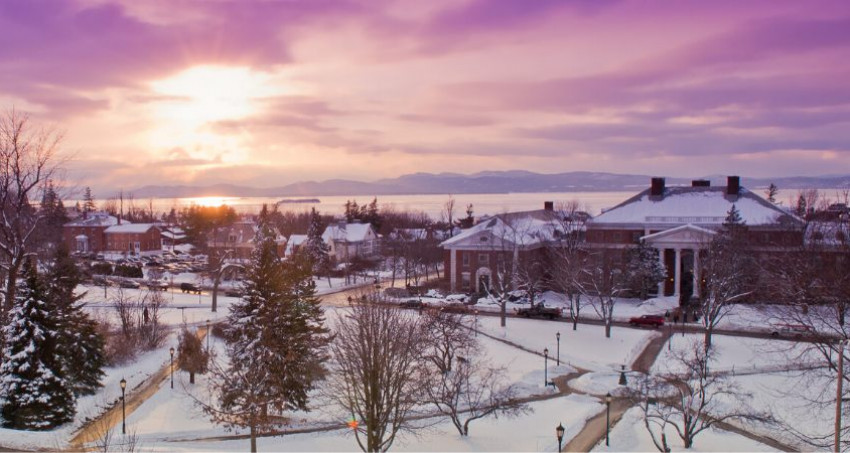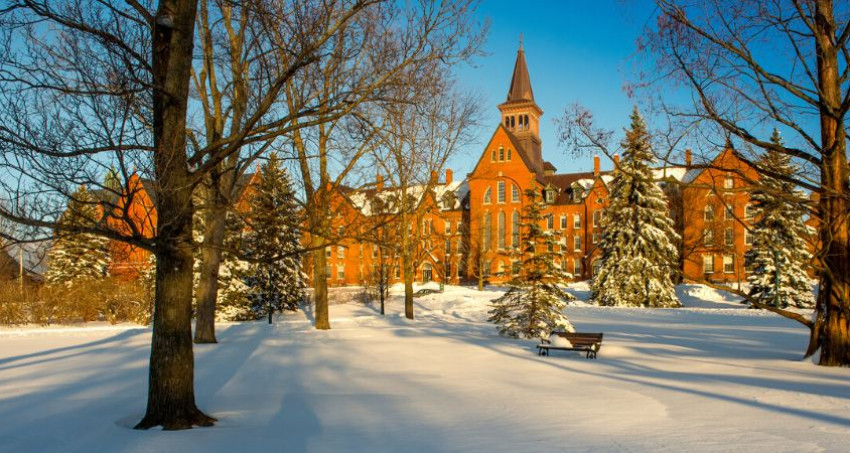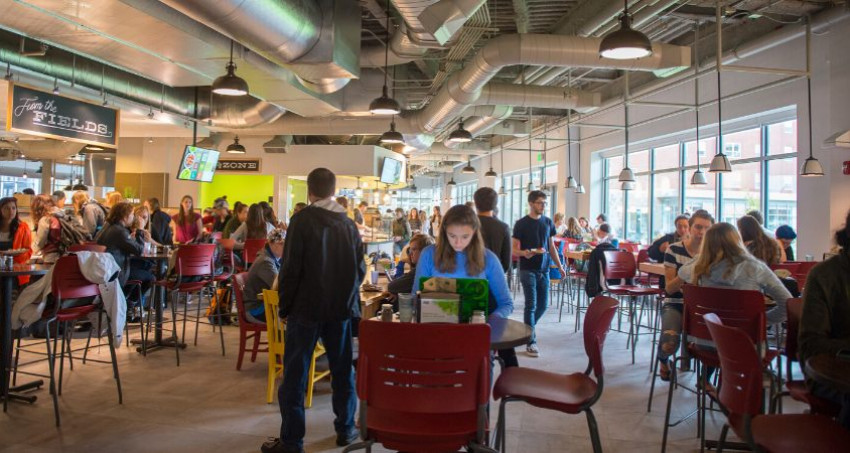 DigInVT says....The University of Vermont sits above downtown Burlington with a beautiful view of the city. As a Gold Barn member of the Vermont Fresh Network, UVM Dining goes above and beyond in their commitment to Vermont's famers and local producers. Students not only eat well, but the university carries their environment of learning into the kitchen with cooking classes and events that help students explore where their food comes from. Marissa Watson, UVM Sustainability Manager, takes you on a tour of student and staff favorites.
---
UVM Dining's chefs partner with local producers to create delicious, nutritious meals for students while school is in session. When family and friends visit and want to explore off campus, UVM Dining staff suggest a few of their favorite restaurants to taste and experience the unique, locally-sourced culture we have here in Vermont, on and off campus. If food is love, these folks will leave you with a full heart.
UVM Davis Center, Burlington
The UVM Davis Center was the first of its kind to earn a LEED Gold certification. Complementing the sustainable impact of the building itself, eateries within commit to serving sustainably-sourced, local food. Brennan's is UVM Dining's 'Real Food' destination! 'Real Food' is a national movement that asks universities to purchase local, organic, humane, and fair-trade ingredients. While all of campus dining participates in the Real Food Challenge, Brennan's sources over half of its ingredients from within one of these four categories. After you've enjoyed a burger and fries at Brennan's, head upstairs to the UVM Dairy Bar for locally made ice cream! All of the ice cream at the Dairy Bar is made with milk from UVM's CREAM program, by students who manage the UVM dairy herd. Seasonal flavors feature maple from Proctor Maple Research Center, UVM's sugar bush. Hungry for a snack or sandwich? Next to the Dairy Bar is the Green Roof Deli, featuring locally sourced meats and cheeses; custom make your own sandwich with festive spreads and veggies. Finally, The Marketplace stocks grab-and-go items, like salads and daily-made sandwiches, hot entrees, and meals made without gluten, peanuts, tree-nuts, and shellfish. No matter your taste or preference, UVM's Davis Center has something for everyone! Check the hours of operation on our website, and join us for a meal on-campus!
Honey Road, Burlington
Women-owned and chef-owned, Honey Road not only serves amazingly delicious, locally-sourced seasonal Mediterranean mezze, this restaurant is also driving culture in the Burlington area. Chef Cara Chigazola Tobin has been a semi-finalist for a James Beard Award in 2018 and 2019, with Honey Road competing as the James Beard Best New Restaurant in 2018. But you can find all that on their website. From a local's perspective, it's well-worth the reservation needed to get in the door, the food is deliciously memorable and the staff is delightful and attentive. When in season, try the crudité with any of the dips, as a portion of the profit goes back to the farmers at Burlington's Intervale. Don't forget to buy the chefs a six-pack, listed on the bottom of the menu, they deserve it.
A Single Pebble, Burlington
Every time you pass by A Single Pebble, peek in the window. Groups of families and friends gather around rotating, family-style Chinese cuisine. Check out the website to read Chef/Owner Chiuho Sampson's inspiring story that tracks from Taipei to Burlington. Know that in addition to the delicious food, Single Pebble offers a warm, inviting atmosphere that encourages old and new friends to come together and enjoy a wonderful evening. And if you're looking for the deliciousness of their menu in a less formal environment, check out the food truck schedule posted on their website.
Hen of the Wood, Burlington
Hen of the Wood serves incredible food any time of the year, but if you're visiting when there's snow on the ground and the weather seems less than inviting, just step into the glow of this restaurant and enjoy its deep sense of warmth. As with most of these popular spots, you will want to make a reservation well in advance, as this is an international destination in the heart of downtown.
El Cortijo Taqueria Y Cantina, Burlington
Tacos seem to be all the rage these days, but these folks had it figured out well before beans and rice were trendy. As part of the Farmhouse Group, El Cortijo has perfected farm to taco, with specials available seasonally. In warm weather, enjoy the patio; when it's a bit colder, snug into a 1950's diner-style booth. Either way, the festive food and drinks will have you feeling like you're on a tropical vacation.
The Skinny Pancake, Burlington
Enjoy downtown or right on UVM's campus; if you missed it while visiting, have a crepe on your way from the Burlington airport. Sweet and savory crepes dominate the menu here, with live music and events to accompany. You can feel good about where the ingredients come from as well as how waste is handled. Skinny Pancake boasts a Vermont Green Restaurant Certification and has a commitment to Zero Waste.
The Great Northern, Burlington
Step away from the Church Street area and check out the south side of town, where the crowds thin and pack up by 10:00pm. Chef Frank Pace keeps The Great Northern open for breakfast, brunch, lunch, and dinner, with a raw bar taking the stage from 3:00pm - 5:00pm. Keep an eye out for Frank, who usually drops by a table or two to make sure everyone is having a good time. The food is phenomenal, in-season, and locally sourced, with mushrooms fresh from the woods, when possible. Build this into your South End tour, where local art and breweries make for a great stroll through town.
Lake Champlain Chocolates, Burlington
Across the street from The Great Northern is the Lake Champlain Chocolates factory offering tours, tastings, and 'seconds' chocolate at a discount! Their honey, maple, and dairy are all sourced locally, supporting Vermont farmers while providing delicious, high-quality ingredients to every truffle, ice cream scoop, and mug of hot chocolate. What they can't get locally is fair trade, non-GMO, and organic. So pull up a chair, take a tour, and don't forget to bring a box back home for the neighbors.
Richmond Community Kitchen, Richmond
Just outside of town, about 20 minutes down the highway from the heart of Burlington, is Richmond Community Kitchen. Take a drive through some of the prettiest country nearby and join a cooking class, or simply pick up a few frozen meals for your student…or yourself. Amy and Susan began RCK with the mission of creating a mixed space to encourage cooking, gathering, and eating. So if you need an activity away from the bustle of the 'big city', learn how to cook Ethiopian food, pierogies, vegan desserts (and the list goes on), rent the space for an event, or stop by to fill your freezer with homemade meals.
Best Season to Visit
Spring, Summer, Fall, Winter
Related News