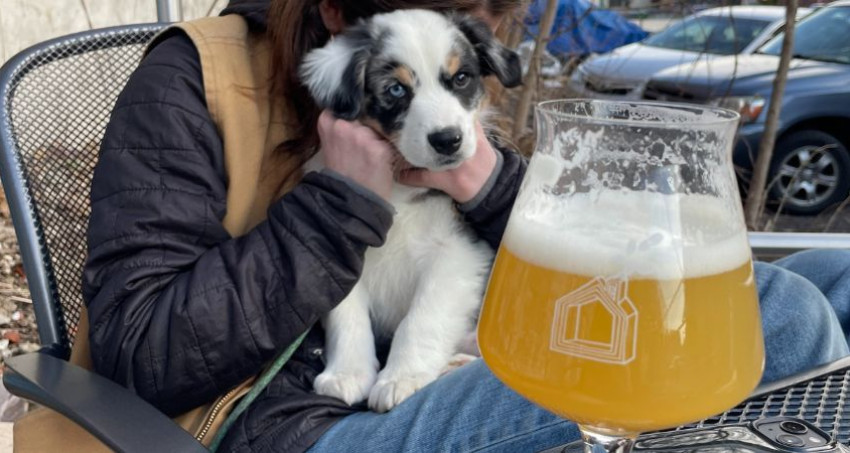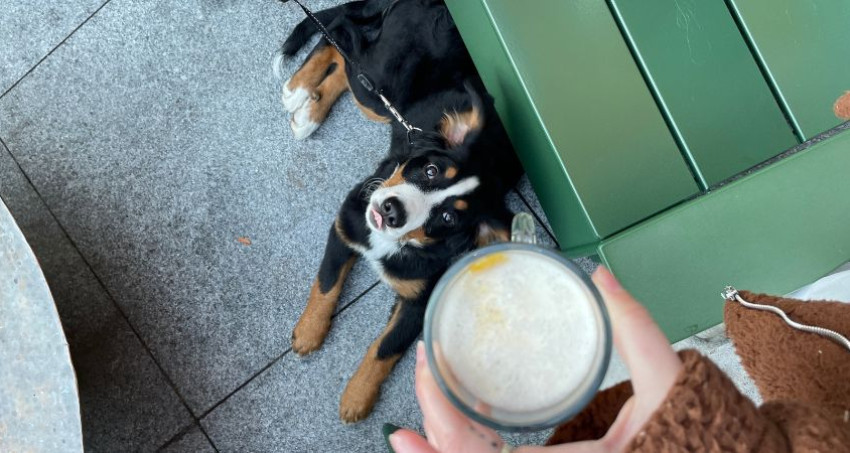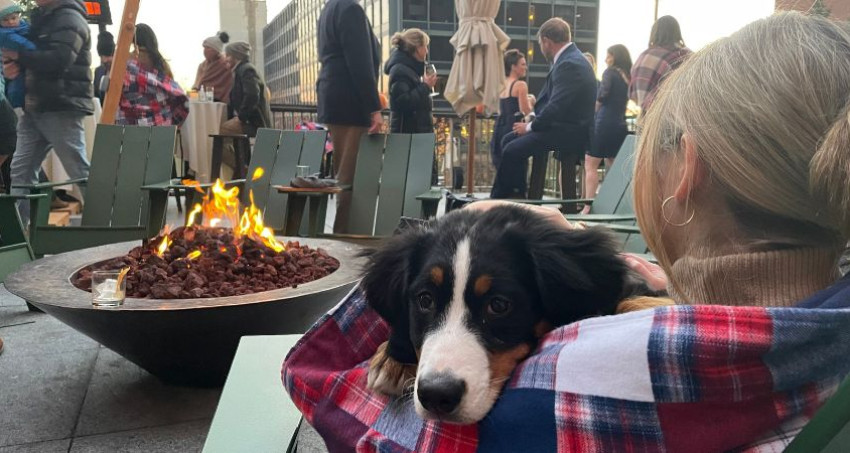 Explore the Dog Friendly Patio Trail
We all love our dogs, and we all feel the guilt when the puppy has to stay home while everyone else goes on an adventure. If your dog likes to join your adventures, we've got you covered. The DigInVT crew has put together a list of dog friendly eating and drinking establishments paired with a walk or hike that brings the whole family together (yes, we are including the pup)!
Please keep in mind that many of these restaurants and breweries are only dog friendly seasonally, please call ahead to confirm that your pup can join.
*************************************************************************************************************************
Foam Brewers was founded by an eclectic group of industry professionals with the simple mission "to resourcefully create imaginative beers for enlightened palates." Brewed in small batches, Foam serves a constantly changing line-up of beers. Located across from Burlington's Waterfront Park, Foam has great views and a laid back atmosphere.
Adventure near Foam: Footsteps away from Foam is the Burlington bike path with miles of paved walkway (and a few dog parks) that are sure to tire out your dog before hitting the Foam patio.
Recommendation at Foam: While Foam's beer menu is constantly changing, you won't go wrong with any of the IPA's on the menu, many of them using local ingredients. Pair it with one of their world-class cheese and charcuterie slates and you'll be set.
Rumor has it that Foam attracts so many dogs that there is a @dogs.of.foam instagram account, maybe your pup will get featured!
Hotel Vermont is located in the heart of Burlington and despite being known for its beautiful rooms it is also a dog friendly hotel (reservations for dog friendly rooms must be made over the phone). Regardless if you are staying at the hotel or not, you can enjoy breakfast, brunch, or dinner at the hotel restaurant, Juniper. Juniper began as a local ingredient-driven cocktail and beer bar and has grown into one of Burlington's liveliest restaurants for hotel guests and locals alike. Juniper offers dishes that satisfy all palates. Whether it is something casual like their 100% local grass-fed beef burger and house-made fries, or something more refined like wild salmon tartare with sustainable caviar, dinner at Juniper will leave you with a taste of Vermont.
Adventure near Juniper: Juniper is just two blocks away from the iconic Burlington Church Street. Church street is Burlington's award winning pedestrian mall home to 100+ stores and restaurants and year-round entertainment and events. Many shops are dog-friendly and you'll be able to take your pup with you on your shopping adventure and they are sure to make many new friends. From Juniper there are gorgeous views of the lake and Adirondack mountains, across the street you'll find a big grassy area to play fetch and two blocks down you'll find yourself on the bike path.
Recommendation at Juniper: For the humans: the 100% local grass-fed beef burger and house-made fries is not to be missed here. For the dog: Head over to the hotel check-in desk and put your best begging face on for treats they have behind the counter. For the beverage: you can be in any drinking mood to come here. They have award-winning local ingredient driven cocktails, natural wine, and world famous Vermont beer collection. However, as it gets cold, we recommend a Hot Toddy by the fire.
Dogs are allowed in the lobby and on the back patio and oftentimes there are fire pits going, please be aware if your dog is a jumper to have brought a toy or strong leash to deter a fire.
Mad River Distillers ferments, distills and bottles all of its spirits in Vermont from local and fair trade ingredients, specializing in apple brandy, whiskey and "whiskey drinker's rums." Their rums are made from 100% demerara sugar, not molasses and are aged in new oak and never back sweetened. Their whiskey mashbills contain unique grains, including oats, chocolate rye and maple-wood smoked barley. Sample Mad River Distillers spirits, learn about distilling, shop for cocktail accessories, mixers and books, buy Vermont-made spirits, and have a cocktail Thursday through Sunday with your pup!
Adventure near Mad River Distillers: Located across from City Hall Park, your pup can enjoy running through the sprinklers (when they are turned on) post cocktail or head down to to the bike path 3 blocks down and take a leisurely walk with views of the mountains.
Recommendation at Mad River Distillers: If you are indecisive, go for the flight! Pick 4 spirits (including their delicious limited releases) and maybe you'll end up bringing a bottle home! OR if you want a full cocktail, we recommend the Maple Bourbon Sour.
Prohibition Pig offers two distinct experiences: a restaurant and a brewery. The Brewery section is dog friendly on the patio and focuses on Latin street food, fresh beer, and mezcal! They offer daily taco additions making this experience unique each time you go.
Adventure near Prohibition Pig: Five miles away is Little River State Park where you can hike and play with your dog, and if your dog is a swimmer they will love Little River State Park.
Recommendation at Prohibition Pig: With an amazing cocktail and craft beer list, the beverage choice is hard here. We recommend starting with their dips and chips and a house beer and finishing with the tacos and a mezcal drink.
With the smell of smoked meat in the air, we recommend bringing your dog treats or a bone to distract from the delicious smells.
Enjoy craft hard cider in the heart of beautiful Stowe, Vermont. They offer flights, pints, board games, lawn games, snacks, and rotating guest taps (alcoholic and non-alcoholic). Sit in The Garden, covered in picnic tables with plenty of space for the dog to play fetch behind the tables.
Adventure near Stowe Cider: Owner, Mark Ray's top recommendations for dog walks before enjoying some cider in The Garden at Stowe Cider are: Stowe Quiet Path, Kirchner Woods, Wiessner Woods.
Recommendation at Stowe Cider: We recommend getting a flight at Stowe Cider so you're able to choose a variety of options and figure out your favorite so that you can grab a 4-pack to take home.
We recommend bringing a ball or frisbee to play fetch with your dog behind the picnic tables.
Brocklebank Craft Brewing is a one-and-a-half barrel nanobrewery in Tunbridge. The brewery is located at a former organic dairy farm making the experience especially "Vermont-y." Only open on Fridays and Saturdays, you'll want to have this adventure on a weekend.
Adventure near Brocklebank Craft Brewing: Head up the Gile Mountain Trailhead for a short, but scenic hike. Be aware that at the top there is a fire tower and it may be best to leave the dog at the base of the tower before heading up to take in the views.
Recommendation at Brocklebank Craft Brewing: Brocklebank's beers all have funny names that are sure to make you laugh as you're sipping on them. From pilsners to pale ales to stouts, all the beer drinkers will find something they like here enough to purchase a growler to take home.
Brocklebank has a brew dog named Otis and you may get lucky enough to meet him!
Enjoy a local New England comfort meets Southern Soul meal at a restaurant that supports 19+ local farms on their menu! Enjoy your meal on the beautiful porch with your dog.
Adventure near Maple Soul: Begin your day in Rochester with a hike up Mount Horrid. We promise the hike isn't as bad as the name implies….it is generally considered a moderate hike taking about 1 hour and 45 minutes to complete and is sure to earn your pup some extra treats at Maple Soul after.
Recommendation at Maple Soul: Maple Soul offers a hearty menu that will fill you up after your hike (and may leave you ordering a second starter "for the dog"). Pair it with a beer from their extensive rotating beer list and relax on the porch.
Best Season to Visit
Spring, Summer, Fall
Related News